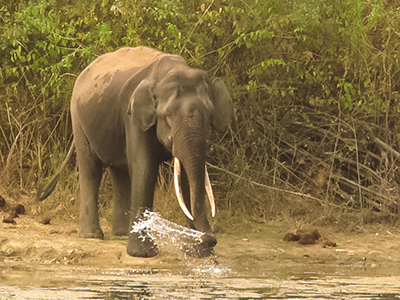 Wildlife in Karnataka
The wild world of 'One State Many Worlds' is something that entices all age groups. Travellers, photographers, nature and wildlife lovers never leave any opportunities to soak up in the lush and rustic greenery. Karnataka is home to numerous wildlife and bird sanctuaries and a jungle safari is something that every traveller craves. Blessed with some rare and endangered species, wildlife in Karnataka is one of the most sought-after holidays. With almost 20% of the forest area, Karnataka shelters wild animals like Black Panther, leopards, tigers, elephants, sloth bears, and many more. Karnataka has more than 20 wildlife sanctuaries and attracts tourists from across the globe. Some of the popular wildlife in Karnataka are listed here for ready reference.
Bandipur National Park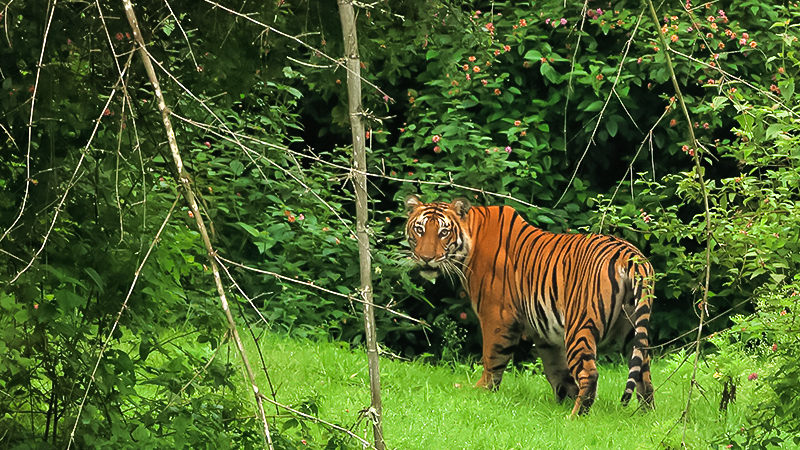 Tiger at Bandipur
Established in 1974, with the second-highest tiger population in India, this park is one of the premier tiger reserves of the country registered under Project Tiger. Popularly known as Bandipur Tiger Reserve, this place was once the private hunting reserve for the Maharaja of the Kingdom of Mysore. This national park is located in Gundlupet Taluk, in the district of Chamarajanagar. A part of this park goes into the Nilgiri Biosphere Reserve, making it the largest protected area in South India and the largest inhabitant of wild elephants in South Asia. There is a strict ban on traffic from 9 pm to 6 am to help preserve the reserve inhabitants and to reduce the death rate of wildlife. Tigers, Indian elephants, leopards, dhole, sambar, sloth bear, chital, etc, and many more animals, birds, and biomes can be spotted in the Bandipur National Park.
Covering almost 874.2 sq km of area, Bandipur is a part of India's biggest biosphere reserve called the 'Nilgiri Biosphere Reserve' together with Mudumalai Wildlife Sanctuary in Tamil Nadu, Wayanad Wildlife Sanctuary in Kerala, and Nagarhole National Park in the northern part of the state. Rivers Kabini, Nugu, and moyar mesmerize tourists with their beauty. Bandipur's spectacular landscapes, grassy woodlands, thick dense forests, chirping of birds, various sounds of small animals, and the silence of the forest is something that gravitates nature lovers, photographers, and wildlife enthusiasts. Hop on to the Jeep safaris organized by Jungle Lodges and Resorts.
Check for more information Bandipur National Park
Dandeli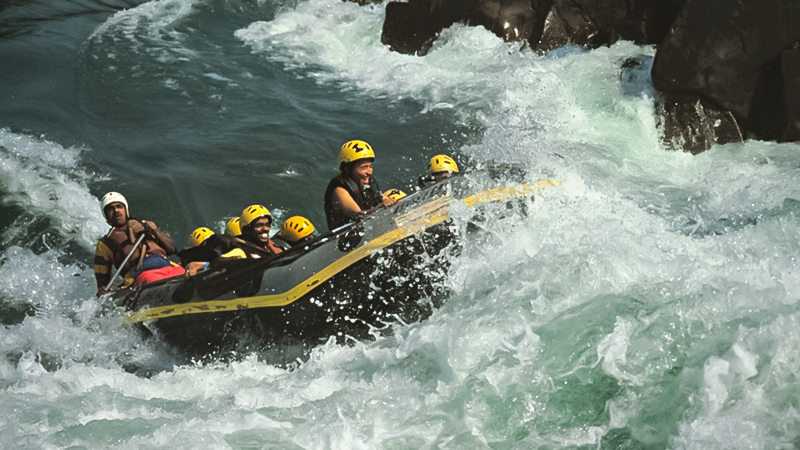 White Water Rafting in Dandeli
Popularly known as the adventure capital of South India, Dandeli is a beautiful city in the state of Karnataka, located at an altitude of 1551 feet above sea level on the rocky trails of the Western Ghats. A beautiful place synonymous with peace and adventure, Dandeli is home to untouched green landscapes housing a wide range of flora and fauna, colossal mountain ranges, nature reserves, and fascinating wildlife. Apart from other exciting sites in this beautiful city, the Dandeli Wildlife Sanctuary takes the cake! Located in the district of Uttara Kannada, the sanctuary covers an area of 866.41 sq. km and was officially notified as part of the Anshi Dandeli Tiger Reserve in 2006 and the Dandeli Elephant Reserve in 2015, by the state government. Home to over 200 different species of birds, this sanctuary with its dense deciduous forests, is a bird watcher's paradise alongside providing a unique experience of crocodile spotting. Dandeli on the banks of River Kali, with its dense forest, is home to many wild animals. A great habitat for wild animals like tigers, leopards, elephants, gaur, and langur is also a paradise for bird watchers. Walk down the river and get lost in the music of chirping or sight of hornbills, darters, and kingfishers. Being the second-largest wildlife sanctuary in Karnataka, Dandeli is also famous for Sintheri Rocks and white water rafting in River Kali.
Check For More Details about Kali Tiger Reserve.
Kabini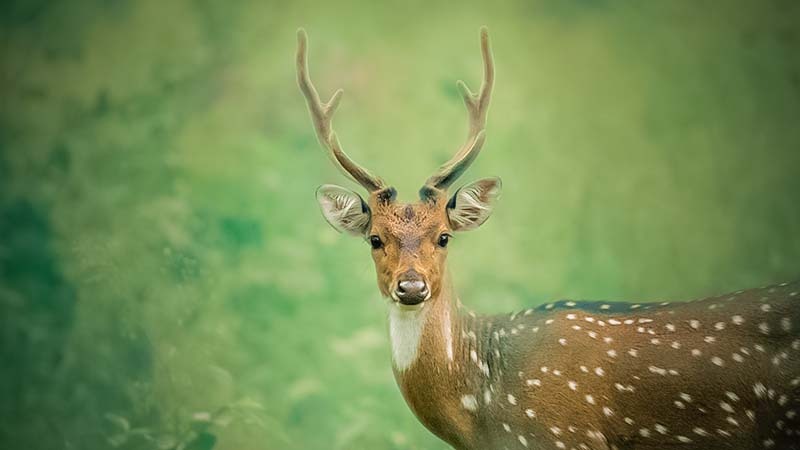 Kabini Spotted Deer
An essential part of the Nagarhole National Park, this wildlife sanctuary derives its name from the Kabini River and spreads across 55 acres, housing several herbivores, especially, Asian Elephants. Known as an ornithologist's paradise, the Kabini Wildlife Sanctuary is famed for housing a vast species of rare birds too. It is also the home for the critically endangered oriental white-backed Vulture along with eagles, Nilgiri wood pigeon, the Indian Bison, etc., which can be spotted only via the Jungle Safari.
As the 37th Project Tiger, this park has a very healthy predator to prey ratio and is home to the Royal Bengal Tiger, Indian Leopard, Sloth Bear, Striped Hyena, Gaur, Elephants, Chital, Sambal Deer, and Barking Deer. It is also known as the Rajiv Gandhi National Park and is located in the Kodagu and Mysore district of Karnataka.
Spend some time in the serenity of dense forest with the mesmerizing nature of Kabini River, a Dam, and the chirping of birds. The backwaters of the River Kabini during summers are the most happening place as most of the wildlife is seen near the lake. Whichever safari either morning or evening, the chances of sighting animals and birds are very good.
Check here to know more about Kabini backwaters Safari, Nagarhole National Park.
Kudremukh National Park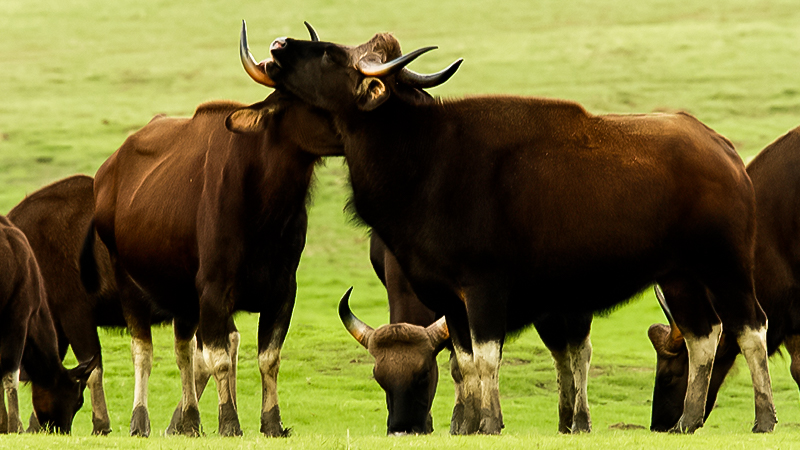 Kudremukh Gaur
Deriving its name from a hilltop that resembles the shape of a horse's head, the Kudremukh National Park is located a distance of 96 km from the district of Chikmagalur and spreads over 600 sq. km at an altitude of 1894 m above sea level. This park is the origin of three very well-known rivers – Netravati, Tunga, and Bhadra. It is home to a wide range of flora alongside famous attractions like tigers, leopards, wild dogs, Malabar squirrels, common langurs, sloth bears, porcupines, jackals, etc. Sighting wildlife in Kudremukh is not so easy because of its dense forest cover making it a great natural habitat for wildlife. The safaris in Kudremukh take you into the deep forest for a good sighting.
Kudremukh can be reached by road after landing at Mangalore airport or the station. It's about 98 km from the airport and 115 km from the station and is a two to three hours drive from there. The park is usually open throughout the year but the best time to visit is winter months from November to February.
Mookambika Wildlife Sanctuary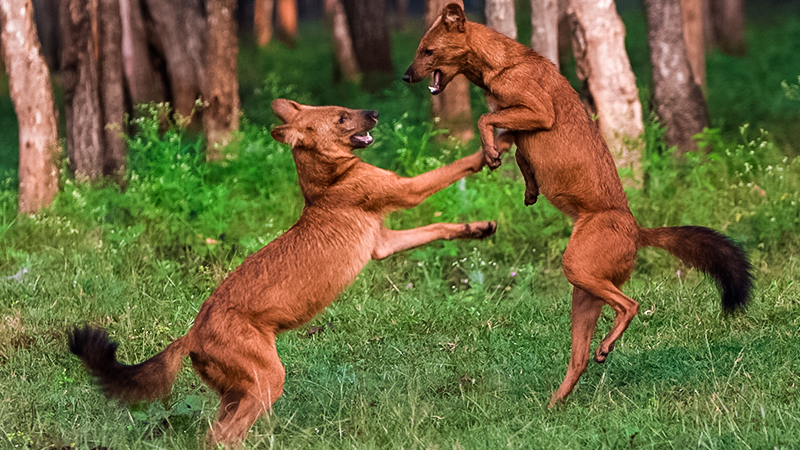 Wild-Dogs Boxing at Mookambika Wildlife Sanctuary
Named after the goddess Mookambika, this sanctuary holds the famous Mookambika Temple in Kolluru in its heart. This wildlife sanctuary spans over  370.37 sq. km and is covered in thick evergreen and deciduous forests. Major attractions of the Mookambika Wildlife Sanctuary range from the Mookambika Temple, the Kodachadri hills, the beautiful waterfalls like the Koosalli waterfalls to reptiles such as King Cobras and other wildlife & rare birds. Wildlife like Jackals, deer, wild boars, tigers, sloth bears, and birds like Myna, Drongo, Brahminy Kites, lapwings, Hornbill, Bulbul, Egrets, Kingfishers, Golden Oriole, Magpie Robin, Purple Sunbirds, flycatchers are the main attractions of Mookambika sanctuary. Mookambika Wildlife Sanctuary constitutes the Sharavathi Valley Wildlife Sanctuary.
The best time to visit the sanctuary is pre or post-monsoon. Because of the density of the forest, it experiences heavy rains resulting in leeches and slushy trails.
Kolluru is the town to reach Mookambika Wildlife sanctuary. Mangaluru is the nearest airport, 130 km while Bangalore is 430 km. The nearest railway station is Baindur, just 30 km from Kolluru, and is well connected by road.
Pick up your cameras, zoom lenses, binoculars, forest attire, good shoes, and great enthusiasm to get into the forest and witness the rustic charm of Karnataka. Karnataka has almost 20 percent of the forest area with numerous sanctuaries, national parks, and Bird Sanctuaries. Wildlife in Karnataka is an integral part of tourism itineraries. Check here To know more about Wildlife in Karnataka.