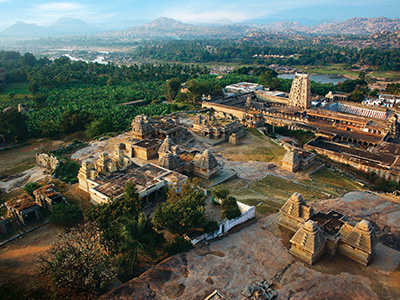 Places to Visit in Hampi
By Meenakshi Gupta
Better known for Virupaksha Temple, the iconic Chariot, and the ruins of the Vijayanagara Empire, the historical city Hampi has a lot more to offer to travellers. In the era of experiential and slow travel, Hampi is a place to get immersed in. Set-in in a splendid rugged boulder landscape, Hampi was once the capital city of mighty Vijayanagara. The ruins of this iconic location evoke the memories of the grandeur of the royalty of the time.
The historic town, the 'World's Largest Open-Air Museum' is classified as a World Heritage site by UNESCO. The royal city located on the banks of River Tungabhadra has so much to absorb and indulge in apart from the massive ruins and its stories. There are a lot more things to do in Hampi to make that a heritage holiday into an experiential tour. Take a bicycle or take a bike ride, hop on to the coracle boat in Tungabhadra River or climb those boulders, or just jump off the cliff, and soak up the off-beat things to do in Hampi.
Coracle Boat Ride in Hampi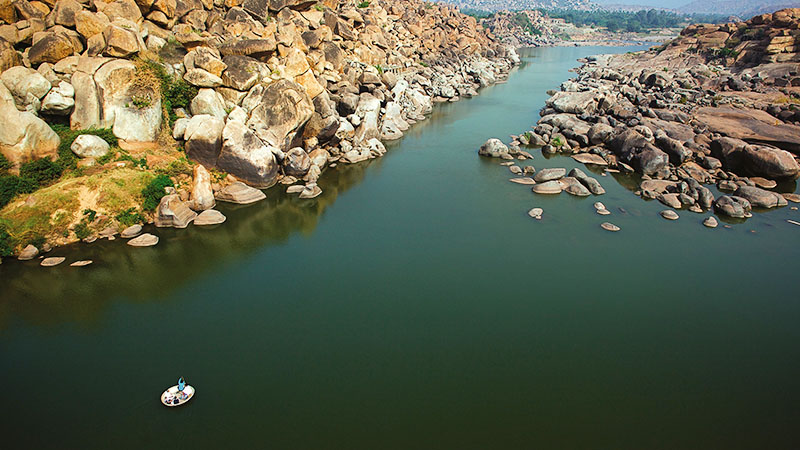 Coracle ride in Hampi
A beautiful setting of boulders in the backdrop on the river Tungabhadra, a coracle boat ride is something one must indulge in. Be it a sunrise or a sunset, the smooth sailing crossing over zig-zag leads to swirling in the middle of the river giving you that adrenaline rush. A relaxing and soothing boat ride called Coracle has been the mode of transportation since the 15th century. A coracle boat ride is an experience by itself as these boats are available only in Southern India. These circular boats carry 6-8 people at a time and are enjoyed by everyone. A coracle boat ride is available throughout the year however for safety reasons due to the overflow of the river, the rides are completely closed during monsoon. The best time to visit is between October to March. Summers can be a little harsh for a boat ride. Usually, the timings are 6 am until 6 pm. On all days. A ride for 10 to 15 mins is available for anything between Rs 50 to Rs 100.
Rock Climbing at Hampi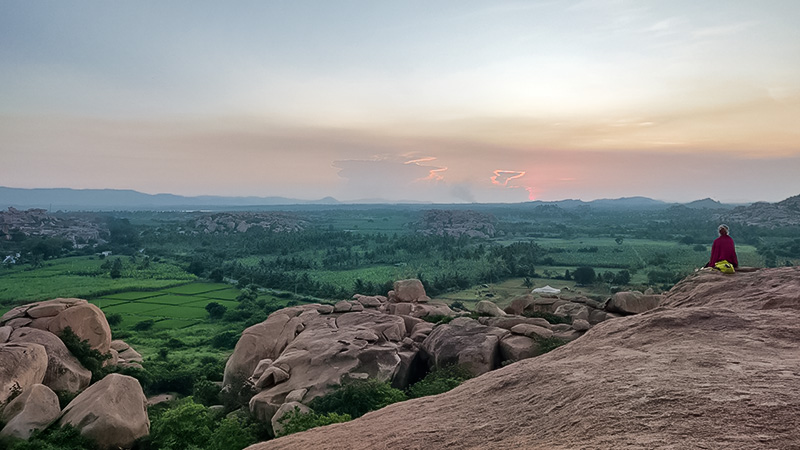 Rock Climbing
Visiting Hampi and not climbing the rocks or the boulders is something an adventurous soul wouldn't do. Ignite your courageous soul for that adrenaline rush in you at Hampi for those appealing boulders at Hemakuta Hills. Hampi is one of the most sought and one of the top rock climbing destinations in the country. Magnificently spread landscaped serving as a perfect backdrop for the river Tungabhadra, these boulders invite rock climbers from all over the world. Just rent a bicycle or walk up to the hills to explore this earthy, rustic and exciting activity in Hampi. Apart from Hemakunta hills, one can also explore rock climbing in Hampi at Raghunatha and Tiruvengalanatha temple area. Rock climbing is open on all days between 8 am to 5 pm and is a do-it-yourself activity. The best season to indulge in rock climbing at Hampi is December and January and the best time is early morning when the sun is not so harsh.
Although it's a DIY activity, all necessary precautions to be taken.
Cliff Jumping at Hampi
If your courageous and freaky soul is still unsatisfied after rock climbing, jump off the cliff at Hampi for that heavenly adrenaline rush. Cliff jumping at Hampi is one of the prime activities which most of the fun-loving and sporty visitors crave for. Sanapur and Hampi / Tungabhadra Lakes are the most popular sites for cliff diving in Hampi. Even though there are caution sign-boards for the presence of crocodiles in the lakes, it doesn't deter the spirit of the divers. However, there are no or little reports of crocodiles found at these sites but it is advisable to take assistance from the local guides for cliff jumping. The cliff is of 15 feet high and is free of cost at your own risk. The best season for cliff jumping is November to January.
Hippie Island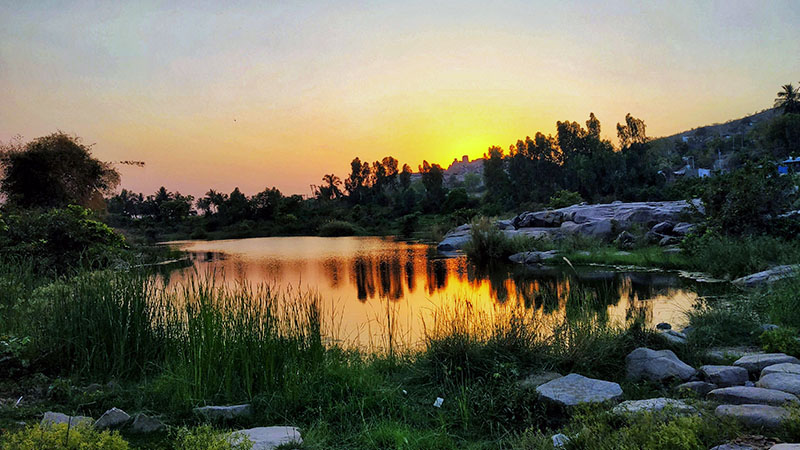 Hippie Island
As the name suggests, Hippie Island is visited by nomads than serious tourists to Hampi Temple and its ruins. Just a little away from the main UNESCO Heritage sites lies this island full of activities. If you take a coracle boat it takes about 5 mins, however, it takes about 40 mins to go by road. A quaint and laid-back life at Hippie Island attracts slow and immersive travellers. A city by itself, the island has huts to stay in, cafes, and an array of activities for young and not-so-young travellers. These shacks or huts facing the lush green rice fields and water bodies with magnificent views of boulders are available for rent at a nominal rate for staying. The cafes serve Indian and well as European cuisines as some of them are run by Europeans who stayed back long ago. Also known as Virupapur Gadde, the island is popular amongst backpackers, who love to explore the destination at their pace and not just do a touristy tour.
A mesmerizing ancient town Hampi and a UNESCO Heritage site has a lot to offer for active and slow travellers.
Know More About Hampi Utsav and Vijayanagara
 Image credits: Anju Yadav & Birendra Kumar Sahu