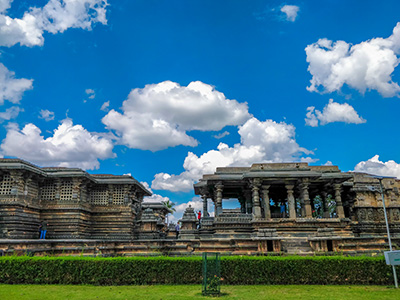 Long Weekend Getaways from Bangalore- 2022
Post-August is the best time of the year, especially for the millennials with lots of festivals coming up. They save their leaves so that they can travel without anything bothering them. Slow and meaningful travel has already picked up India and travellers have realised the essence of the same. Karnataka is blessed to have many tourist attractions that one can plan over a weekend. Bangalore being the most well-connected destination is the base for all travels not only in Karnataka but the whole of South India. Long weekend getaways from Bangalore are something everyone is always looking for.
There are several destinations within a 300 km range from Bangalore that can be considered for long weekend getaways.
Bheemeshwari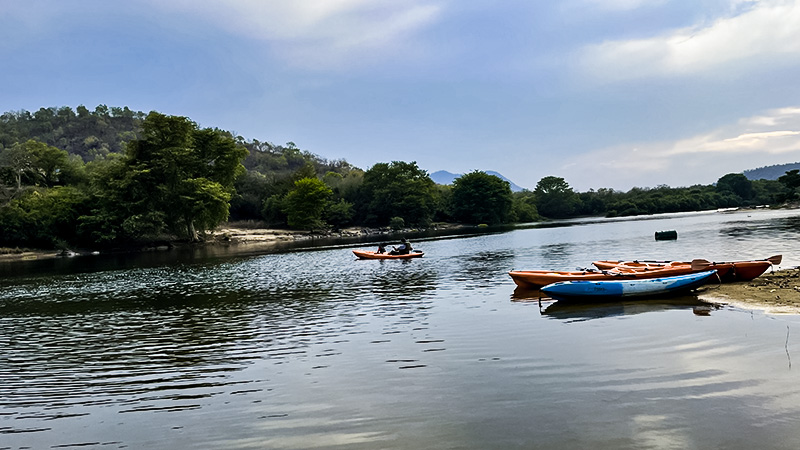 Kayaking at Bheemeshwari
Bheemeshwari is an ideal weekend getaway for all nature lovers, wildlife enthusiasts and adventure seekers. Wake up to the birds chirping or cuckoo's coo, listen to the melodies of the river Cauvery flowing, or just immerse into the silence of the forests around. Bheemeshwari is a one-stop family destination with loads of adventure activities. The best stay option and the most popular one is Jungle Lodges & Resorts. Make sure you book your stay well in advance as it is always in demand. The adventure and nature camp, as the name says has an array of activities like kayaking, coracle boat ride, zip lining, nature walk, trekking and more. There is also a good sighting of some wild animals like elephants, deer, crocodiles, turtles and snakes. There are around 200 species of birds. The mesmerising fauna and flora at Bheemeshwari will leave you in awe.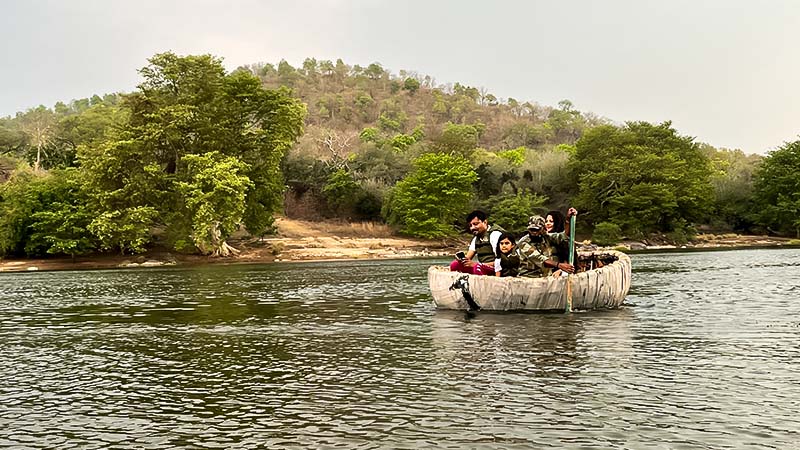 Coracle boat ride at Bheemeshwari
Best time to visit: Post monsoon when the river Cauvery is in full swing and roaring, gushing from one end to the other is the best time to visit. The lush greenery in all corners and the water adventure activities make the experience a memorable one.
How to reach: Bheemeshwari Jungle lodges & Resorts also known as Bheemeshwari Adventure Camp is just 100 km from Bangalore and can be best reached by road. It takes about 2 and half hours to reach the resorts. The nearest airport and railway station is Bangalore.
Hassan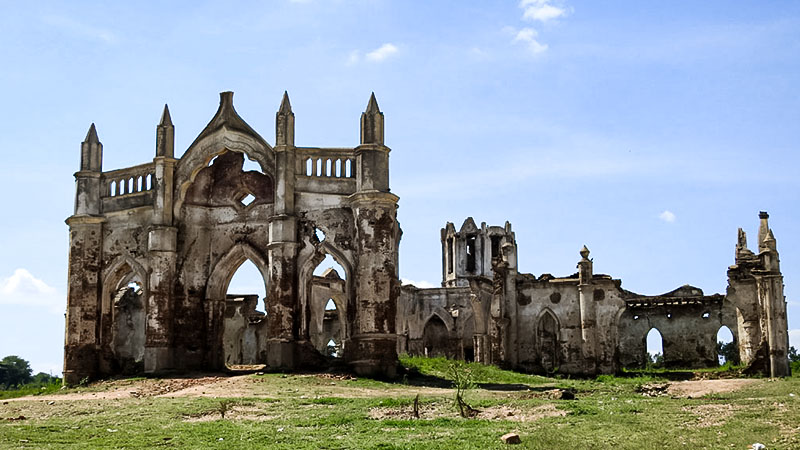 Settihalli Church in Hassan
Just 200 km away from Bangalore, Hassan is a heritage town with several other splendid tourist destinations. The glorious ancient temples, forts, other places of worship and hill stations, Hassan has it all. Hassan is a complete family destination with an opulent past offering places to see and things to do for each segment of travellers. Keeping Hassan as the base station, one can visit Sakleshpur, Chikamagalur, Bisley Ghat, Manjeerabad fort, Belur, Haleebeedu, Gorur Dam, Sravanabelagola and more.
Best time to visit: During summers Hassan is comparatively warmer than the rest of the year. To enjoy the best of Hassan and nearby areas, the best season is post monsoon till March i.e from September to March. During this period the weather is pleasant, waterfalls are gushing and the hills are misty.
How to reach: Being a district, Hassan is well connected with the major cities of Karnataka. The nearest airport is Mysuru which is about 140 km away from Hassan whereas Bangalore is 200 km. Hassan is well connected by rail and road across the state.
Mangalore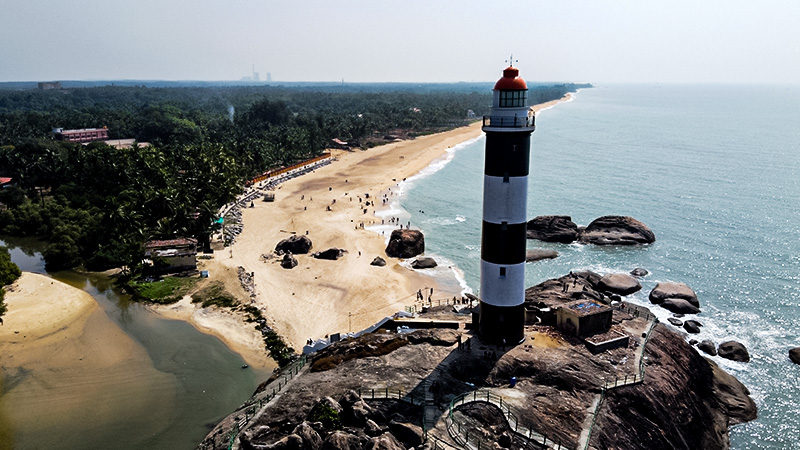 Kapu Lighthouse – Mangalore
The diverse tourist attraction in Karnataka justifies its tag line 'One state Many Worlds'. Approximately 320 km of coastline covering three districts namely Uttara Kannada, Udupi, and Dakshina Kannada makes it an ideal weekend getaway to just soak up in the divinity of serene beaches. Mangalore is a destination that has it all from beaches to temples, food to art & crafts, heritage to history which makes Mangalore a perfect destination. Mangalore is the district headquarters for Dakshina Kannada and can be visited throughout the year. Apart from the serene beaches, indulge in the art and crafts, heritage houses called Guthu Mane, historic temples of great significance, water sports adventure, Churches, forts and above all the coastal cuisine. One of the main attractions for travellers and foodies to visit Mangalore is the coastal food. Cooked and simmered with old-age traditional recipes with minimum ingredients, the coastal Karnataka cuisine is one of the top cuisines in the world. Procured locally, the fish and the other seafood are the highlights of the coastal Karnataka delicacies and are delectable on the palette. You can also plan a visit to Udupi which is an hour away from Mangalore. A Vistadome train journey from Mangalore to Bangalore is one of the most iconic and scenic journeys in the country.
Best time to visit: Mangalore weather is generally warm and humid. The summers should be avoided if possible else carry protection like sunscreen lotions, umbrella, etc. The month post-monsoon, rather from October and before February is the best time to visit Mangalore.
How to reach: Mangalore has an international airport and flights from Gulf countries and major cities of India land here. The railway and road transport system is well connected with most of the major cities in India.
Shivamogga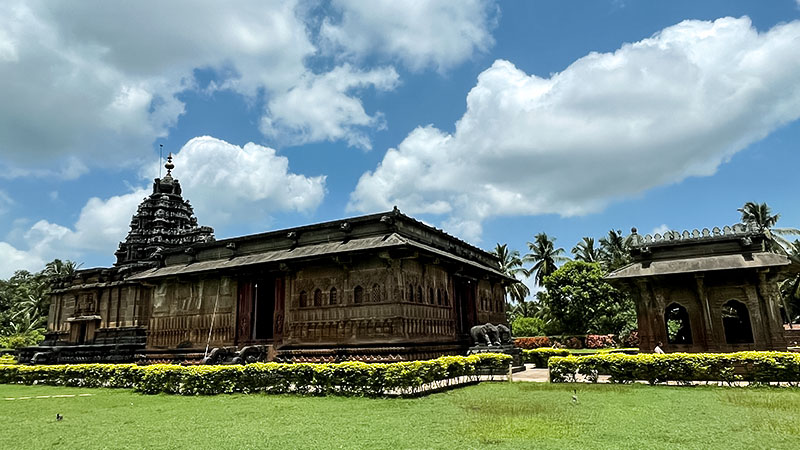 Ikkeri Temple -Shivamogga
One of the lesser-known and unexplored destinations in Karnataka is the Shivamogga district. Nestled cosily as the gateway to the Western Ghats, Shivamogga district is a part of the Malnad region. The unexpected lush greenery, sparkling and spurting waterfalls, majestic reservoirs and rivers perfectly blends with the rich history and heritage of the district. Shivamogga is the home to one of the largest falls in India, Jog Falls. Often known as Niagara of India, Jog falls is in its full glory and have magnificent views of the four falls namely Raja, Rani, Rocket and Roarer especially post monsoon. The breathtaking views of these majestic falls will leave you spellbound. The other places of interest include ancient twin temples like Ikkeri- Keladi, Arasalu Railway station aka Malgudi Days Museum, Sakrebyle elephant camp, an adventurous jeep ride to Kodachadri Hills and much more. Shivamogga is a one-stop destination for all travellers.
Best time to visit: The weather in Shivamogga is generally tropical, humid, warm and dry. Post monsoon and winters are the best seasons and pleasant. The splendid Jog Falls are in their full glory during this period and are the highlights of the region.
How to reach: The nearest airport is Mangalore, about 200 km away from Shivamogga. Bangalore is about 300 km and is well connected via road and train. From Mangalore, it takes about 4 hours by road to reach Shivamogga.
Chamarajanagar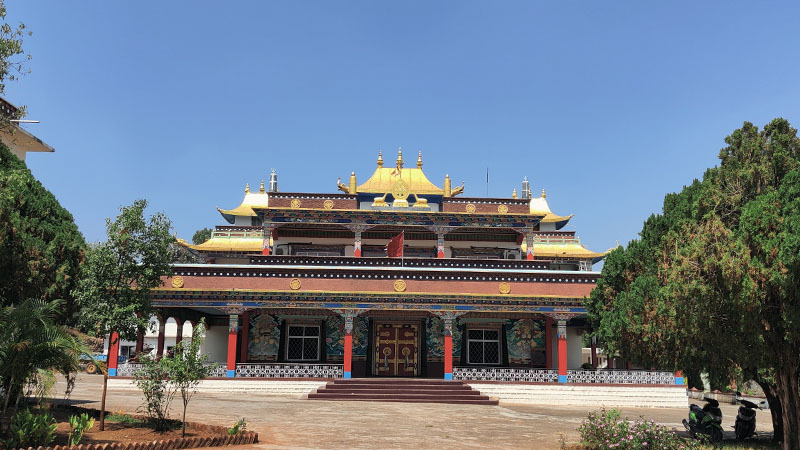 Dzogchen Monastery Chamarajanagara
Surrounded by Mysuru, Mandya and Ramanagara districts in the north, sharing borders with Tamil Nadu and Kerala, Chamarajanagar is blessed with diverse wildlife and fascinating hills. One of the biggest forest reserves of Karnataka Bandipur National Park along with BR Hills, BRT wildlife sanctuary, Himavad Gopalswamy Betta, Barachukki Falls, Male Mahadeshwara Hills,  and Dzogchen Monastery are the major attractions. An exciting and thrilling jungle safari in Jeep to experience the pristine wildlife witnessing one of the best sightings will be etched in my memories for life.
Best time to visit: The lush greenery and dense forests make Chamarajanagar an all-around year destination. However, post-monsoon is the perfect time to visit for its glorious waterfalls, cooler and misty hills, and the festivities in the temples are in full opulence.
How to reach: Chamarajanagar is well connected by road from Bengaluru and Mysuru. While Bangalore International Airport is 212 km away from Chamarajanagar, Mysuru is just 62 km away. From both the airports, Chamarajanagar is well connected by road.