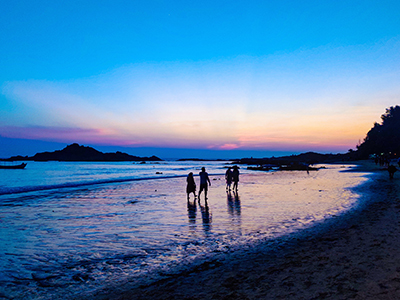 Things to See in Gokarna
By Meenakshi Gupta
A laid-back, quaint, and serene town in the Uttar Kannada district of Karnataka, Gokarna used to be a backpacker's paradise. But no longer now. This happening town with an array of activities from beach surfing to visiting an ancient temple, there are many things to do in Gokarna. Gokarna is a fascinating town with pristine beaches and significant shrines. Unwind yourself into the golden evenings and mornings, amazingly beautiful sunrises and sunsets, or just find solace in the ancient temples of Gokarna.
Beaches in Gokarna
Om Beach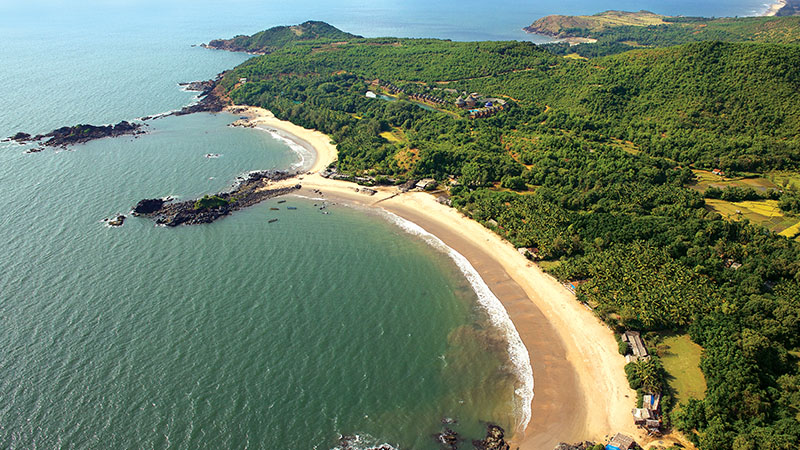 Om Beach
Called Om Beach for its geographical appearance, the shape of Hindu's auspicious sign 'Om'. Whether you love to have a relaxed and rejuvenated time on the beach or want to have some adventure, Om beach has it all. A photographers' delight, the beach is about a km away from the main Gokarna town. For adventure seekers, a rocky trail crossing from the bushes and a meandering path leads to a hill to come to a well-laid tar road. Some of the thrilling day activities you would love to indulge in are our Banana boat rides, bumper boat rides, dolphin spotting, jet skiing, fishing, trekking, and speed boating.
Check here to Know More About Om Beach Gokarna
Kudle Beach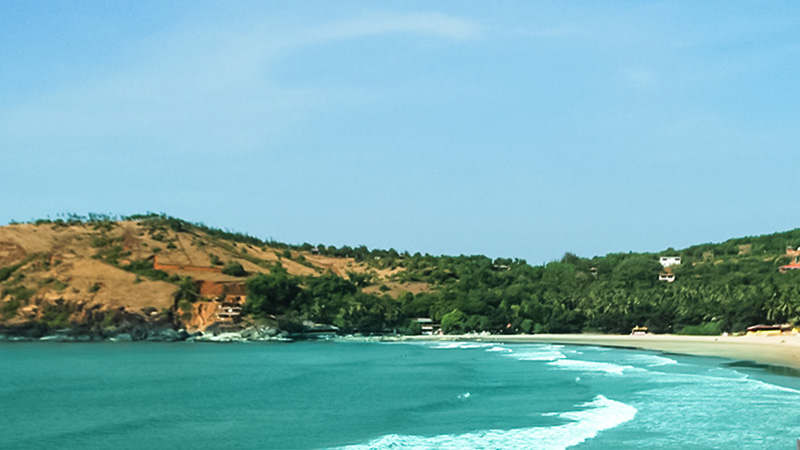 Kudle Beach
A chilled-out beach with loads of fun and trendy activities for all age groups. Kudle beach is a little laid-off beach that usually is deserted during the summers. As the temperature drops, i. e. From November to January the beach is fairly crowded with nomads relaxing and lazing around at the beach. The beach is popular with travellers who wish to stay in the town and come here to spend the day eating and chilling for the day. A charming and serene beach attracts nature lovers who easily get mesmerized by the various hues of the sky over the ocean. The locals and tourist love to visit Kudle beach for morning and evening walks and yoga sessions on the beach. Breath-taking sunrise and sunset views are the major attractions.
Half-moon Beach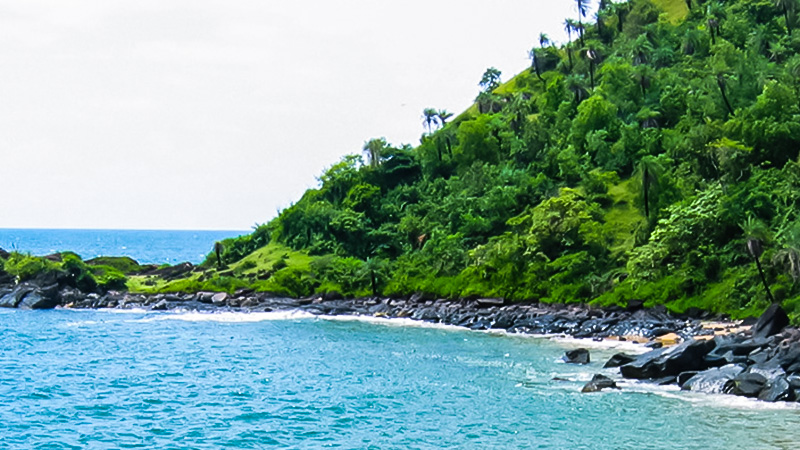 Half Moon Beach
Another pristine and breath-taking beach in Gokarna is Half-moon Beach. Named after its appearance like a half moon which can be seen only in a drone shot, this is one of the two beaches that can be reached by trek. Soak up in the lap of nature admiring the photogenic aqua marine blue sea while camping near the classical village huts at the shore. Comparatively smaller and lesser developed beach than Om beach, half-moon beach is the best beach to spend time looking at the caves while gazing at the twinkling sky.
This beach gives a thrilling experience of the beach looking at infinity with lush green and thick forest in the background. There are no water sports activities on this beach however you can immerse yourself in swimming, canoeing, paddle boats, camping, or just unwind by relaxing and sunbathing at the beach. To add more to the experience indulge in lip-smacking shack food with some authentic local recipes. The beach is surely a perfect getaway from the hustle and bustle of city life and basks up in the lap of nature.
Gokarna Beach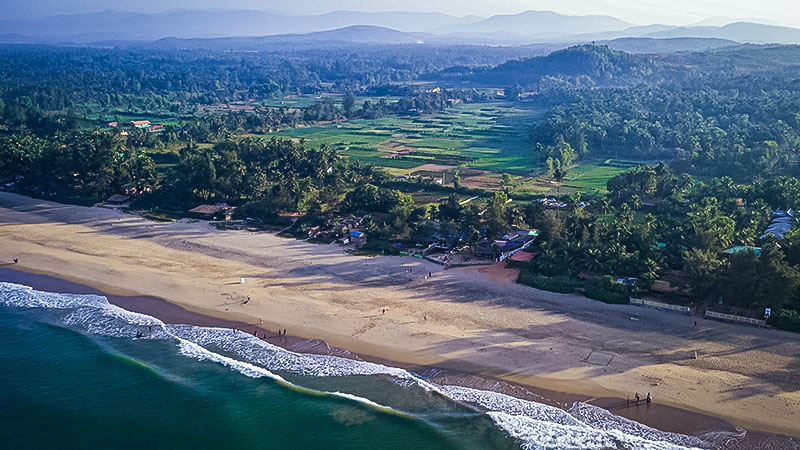 Gokarna Beach
Of late the beach has gained popularity for being a surfing site. The not-so-clean beach is believed to give you a holy dip before you enter the Mahabaleshwara temple. If you walk a little away towards the River Gangavalli, the beach is pristine and less crowded. A heavenly paradise for adventure seekers and photography enthusiasts, Gokarna beach is popular for adventure activities like jet-skiing, snorkelling, surfing, banana boat ride, and trekking. For complete wellness and to explore yourself, one can indulge in a yoga session at the seashore. Gokarna beach is also the starting or the main point to start your trek to other scenic beaches within a radius of 10 km.
Paradise Beach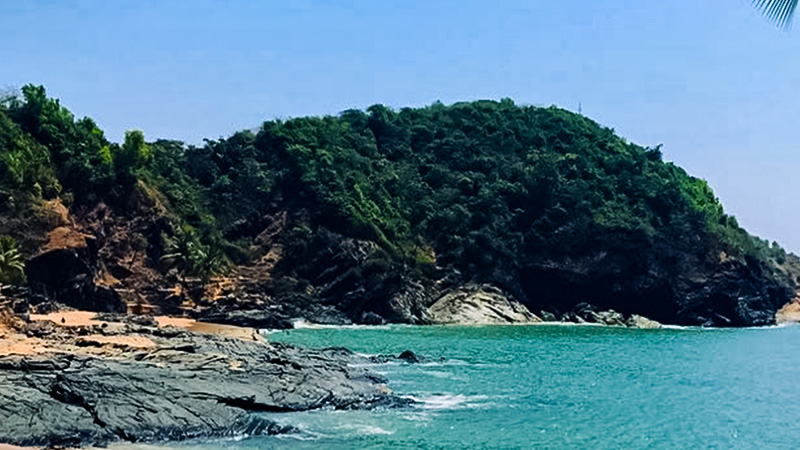 Paradise Beach
Another popular beach that can only be reached by a hike is Paradise beach. There is no road directly connecting to Paradise Beach. One of the most scenic and mesmerizing beaches in Gokarna is 150 mts in length and is 70 % covered with beautiful rocks. Paradise beach is surely a photographer's delight. As the beach doesn't offer any water sports activities, this is an ideal beach for those who want to spend time in tranquillity and in the lap of nature. Spend time gazing at the stars, eating the local delicacies, or just breathing and absorbing the calmness. Due to water currents, swimming is not advisable at Paradise Beach. Also do not venture out hiking back to the other beaches post-sunset, due to slippery and rough rocks. It could be just too risky. There are not many staying options at Paradise beach.
Other things to do in Gokarna
The beach town will surely take away all your time and there is less chance that you would want to do something else. However, this serene beach town is also a pilgrim's paradise. The town also hosts some of the renowned temples visited by several devotees. You can also indulge in other activities like swimming in the sea, surfing, and yoga. Although there are vendors who claim to show dolphins in the area the chances of sightings are very less.
Mahabaleshvara Temple is one of the most visited and the biggest temple in town dedicated to Lord Shiva. The temple dates back to the 4th century CE and is in the Dravidian style of architecture.
Maha Ganapati Temple is also known as the 'Siddha Ganapati' temple, as the name says is dedicated to lord Ganesha. Just a few yards away from the main Shiva temple. It's a common practice to visit the Ganesha temple first and then move to the Siva temple.
Koti Tirtha Closer to the Mahabaleshwar temple, Koti Tirtha is the most visited place by tourists and pilgrims. A man-made water tank is believed to be the origin of many springs.
Mirjan Fort even if you are not interested in history, this 16th-century fort will surely mesmerize you. Just 22 km away from Gokarna the fort is believed to have belonged to a Portuguese queen named Pepper Queen who stayed in the fort for almost 50 years.
Surfing the clear blue water of Gokarna beach is an ideal place for surfing especially for beginners. There are a couple of agencies on the beach itself conducting classes for beginners.
Yoga classes, you can start your day or end it by enrolling in a rejuvenating yoga class with the beautiful beach and the sky in the backdrop. There are a couple of yoga schools conducting the session in different forms of yoga.
Visit during Shiva Ratri one of the biggest Lord Shiva festivals is Shivaratri, the day when Lord Shiva and Goddess Parvathi got married. Tourists and devotees flock from all over the world to witness one of the grand celebrations of the country.
Yana Caves just 27 km away from the temple town, Yana caves are famous for adventure, wildlife, and religion. A paradise for trekkers, hikers, and adventure seekers, this is surely a photographer's delight too.
How to Reach Gokarna
Gokarna, a small pilgrimage town located on the coast of Karwar in Karnataka is well connected by road and rail.
By Air
The nearest airport around 145 km away is Dabolim in Goa and can be reached by road from Gokarna. The other international airports are Mangalore and Bangalore, 250km and 487 km away respectively.
By Rail
Although Gokarna has a station it is not well connected to the major cities and not all the trains stop here. The nearest major railway station is Ankola which is about 20 km away from Gokarna and can be reached easily by road taking public transport or a cab.
By Road
Gokarna can be best reached by road. Distance from the next major town Karwar to Gokarna is about 59 km. You can hire a cab or take public /private transport like cabs or buses from most of the closest major towns in Karnataka, Goa, and Maharashtra.
Getting around
The beautiful pilgrimage and beach town can be best explored by walking. Most of the beaches and attractions in this small and compact town are 20-30 mins away by walk. Most of the cafes and viewpoints are at the beach and are best reached by walking. Soak up in the serenity of the quaint beach town in Karnataka.