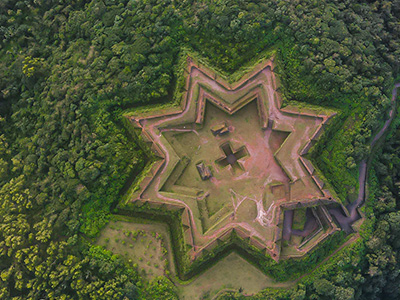 Places to Visit in Sakleshpur
Nestled in the beautiful and lush green valleys of the Western Ghats, Sakleshpur is located in Hassan district and comes under the Malanad region of the Karnataka state. One of the most sought weekend destinations in Karnataka, there are many interesting places to see in Sakleshpur. A picturesque town, known for its surreal landscapes, coffee, and spice plantations also breathtaking gushing waterfalls, trekking trails, and some of the most mesmerizing ancient temples.
Sakleshpur is a blend of heritage, nature, adventure, and history, making it a perfect destination for all segments of travelers. Sakleshpur is a paradise for adventure seekers, and nature lovers and is a photographer's delight. Some of the top places to see in Sakleshpur and not to be missed are listed below.
Manjarabad Fort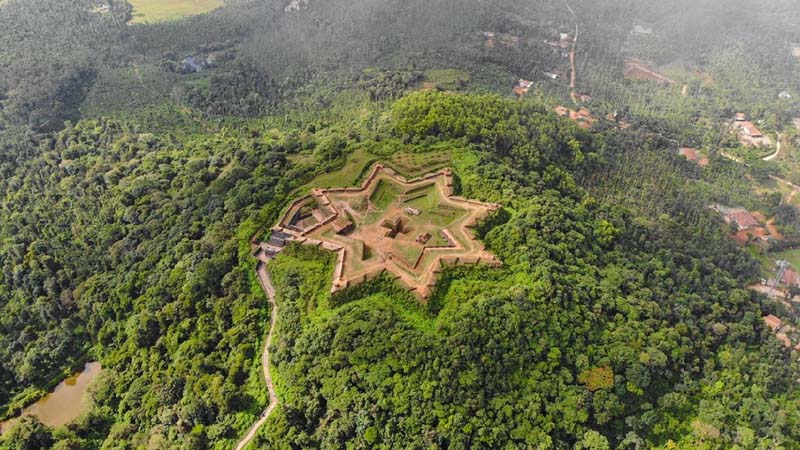 Manjarabad Fort
One of the most visited places in Sakleshpur is the star-shaped fort built by Tipu Sultan in 1792. Several tunnels, chambers, watching holes, cannon mounts, and glorious history attracts travelers from all spheres. A day outing at Manjarabad Fort will take you back to the time of Tipu.
Bisle Ghat View Point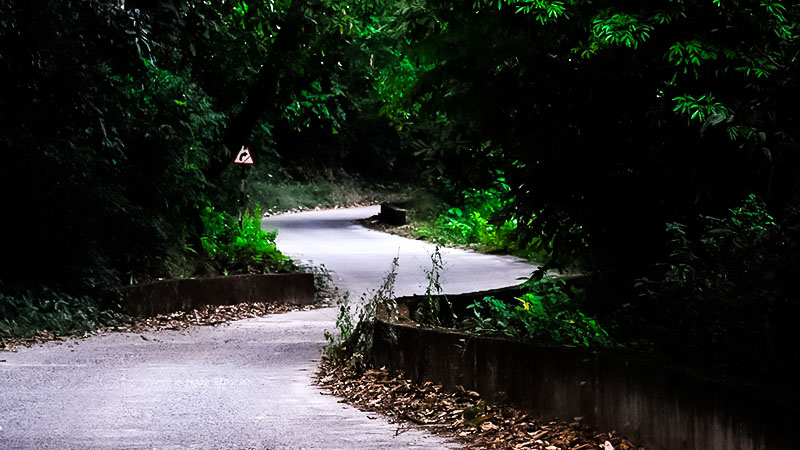 Bisle Ghat Karnataka
Located amidst the lush green and dense forest reserve, Bisle Ghat viewpoint is just 42 km away from Sakleshpur. Spread across a sprawling 40- hectare reserved forest area, the Bisle Ghat trek/ viewpoint is surrounded by the Western Ghats and Bisle Ghats. The scenic stretch of the pristine forest leads you to the spectacular viewpoint. Some of the hillocks like Pushpagiri, Kumara Betta, and Yennikallu are the trekkers delight. Hiking on these trails best connects you with nature. One has to be aware of wild animals like elephants, bison, sambar, wild boar, and much more makes the fauna and flora of the region worth visiting again and again.
Kukke Subramanya Temple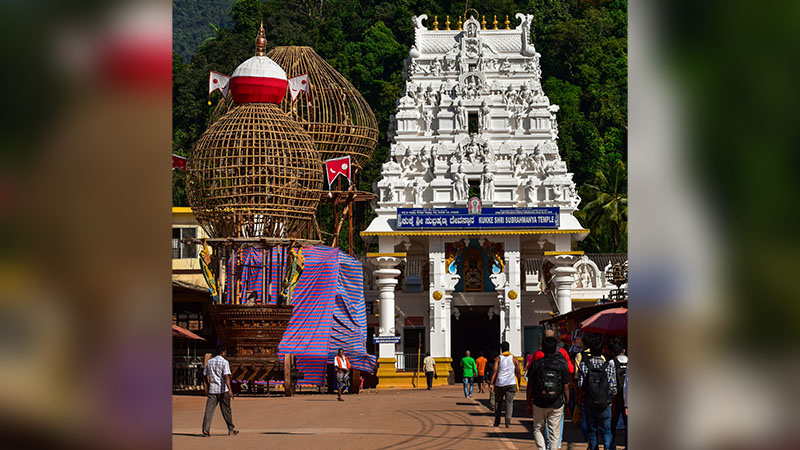 Kukke Subramanya Temple
A 5000 years old temple in South India that is visited by millions of people every year is Kukke Subramanya temple near Sakleshpur. Nestled amongst other popular places like Kumara Parvatha, Dharmasthala, Madikeri, and Bisle Ghat, Kukke Subramanya is one of the seven holy places created by Saint Parashurama. The temple is famous for prayers seeking protection from a Black snake or Sarpa dosha parihara.
Betta Byraveshwara Temple
An almost 600-year-old Lord Shiva temple, located just 35 km from Sakleshpur, Betta Byraveshwara temple is one of the top places to be visited. Nestled in the serenity of Western Ghats, it is believed that the according to mythology, Pandavas from Mahabharata stayed here for a short while during their exile. Pilgrims flock to this temple to take the blessing of Lord Bhairava, especially during the annual Abhishek held in January every year. Historians, researchers, and all heritage enthusiasts visit the temple for its craftsmanship and history.
Waterfalls in Sakleshpur
Post-monsoon, the gushing and cascading waterfalls add beauty to the rustic natural surroundings. Some of the Sakleshpur waterfalls are such. There is hardly anyone who doesn't love nature or does not want to spend time in tranquillity. The stunning and charming waterfalls of Sakleshpur allow you to spend time in the serenity of this tiny hill station of Karnataka. Some of the major and worth-visiting waterfalls in Sakleshpur are Manjehalli falls, Murkannu Gudda And Hadlu Waterfalls, and Magajahalli Waterfalls.
Trekking in Sakleshpur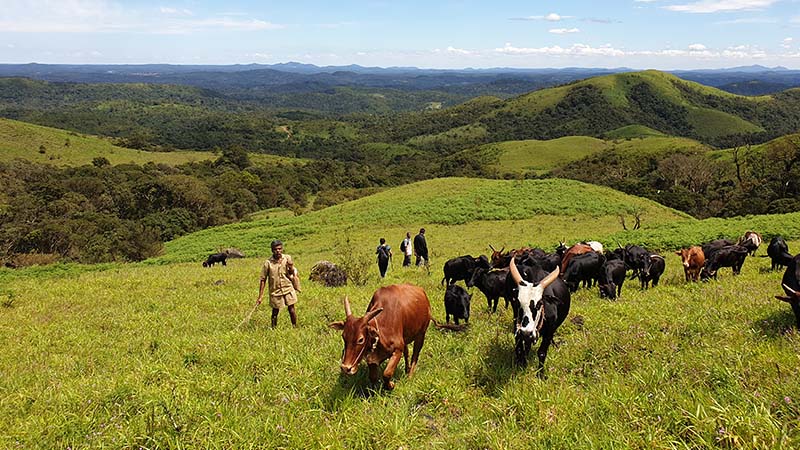 Agni Gudda Sakleshpur
Also known as one of the best hill stations in south India, Sakleshpur is a trekker's paradise. Many hills can be climbed for those majestic views of the Ghat section. Most of the treks are of beginner's level and can be enjoyed by all age groups. The mesmerizing trails with panoramic views, misty hills, lush green dense forests, and fauna and flora will surely make your treks in Sakleshpur a memorable one. One can consider Jenukal Gudda, Ombattu Gudda, and Agni Gudda apart from the famous Bisle Viewpoint to enjoy the enchanting views.
How to reach
Being nestled in the heart of the Western Ghats, Sakleshpur qualifies as one of the best hill stations in Karnataka. Sakleshpur can be reached best by road.
By Air
As there is no airport in Sakleshpur, it can be reached best from Mangalore or Bangalore Airports. While Bangalore international airport is about 240 km, Mangalore airport is just 150 km, and takes about 3 hours to reach Sakleshpur by road or rail from there.
By Rail
Sakleshpur has the most scenic rail route from Bangalore and Mangalore. The hills of the Western Ghats, gushing waterfalls, lush green valleys, misty mountains, and a lot more can be expected from this scenic train journey. Bangalore is 220 km from Sakleshpur while Mangalore is only 130 km away. One must board the Vistadome coach to enjoy the scenic journey.
By Road
Crossing through the Ghats section and admiring the panoramic and spectacular landscapes, Sakleshpur can be well reached by road from Bangalore, Hassan, Mangalore, and Mysore. State-run bus transport services KSRTC ply from all the major cities of Karnataka. You can also hire a cab to reach Sakleshpur.
Check here to Know More About Sakleshpur