Dandeli – Karwar – Gokarna
Looking for some adventure, serenity, tranquillity or just want to soak up in the lap of nature? Of most of the places in Karnataka, Karwar-Gokarna- Dandeli is one of the most popular and exciting circuits. An action-packed adventurous holiday in Dandeli, a trek in Gokarna, or some water sports in Karwar beach, a 4 nights 5 days holiday will surely rejuvenate you.
Dandeli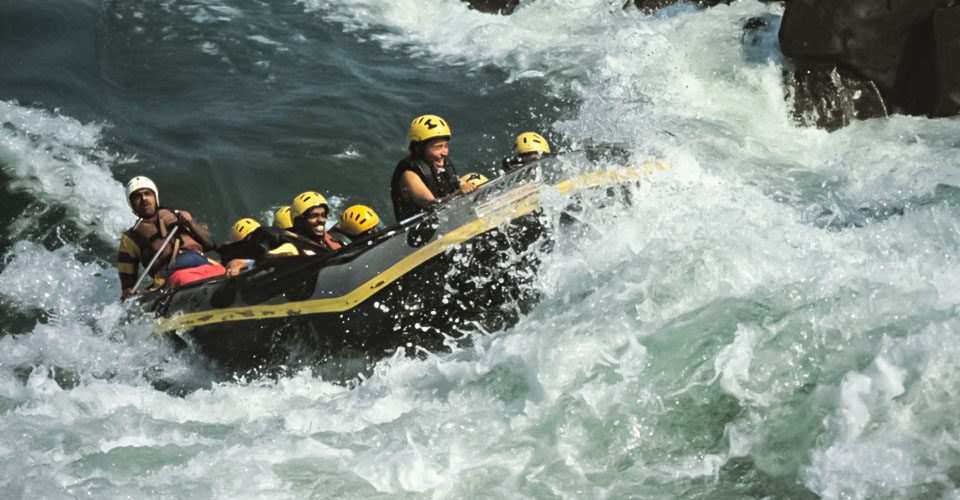 White Water Rafting at Dandeli
Start your journey either from Mangalore or Bangalore. Both Mangalore and Bangalore have International airports and are well connected with major cities in India via rail and road.
Starting from Bangalore, drive through the pristine Western Ghats to reach a paradise called Dandeli. About 8 hours of drive with a 460 km of distance, Bangalore to Dandeli is a picturesque drive through the pristine Ghat section amidst misty mountains.
Dandeli is a small town located on the banks of Kali River in Uttara Kannada district. Dandeli is a favourite place for adventure seekers, and nature lovers and is a paradise for photographers. Reserve your stay in ample of staying accommodations like jungle resorts, homestays, and tree houses available, to enjoy the silence of the forests and the melodious chirping of the birds. The lush green forests post-monsoon, the gushing River Kali, adventurous jeep rides, hiking and white water rafting are some of the thrilling and exciting things to do in Dandeli. Dandeli is home to almost 300 varieties of resident and migratory birds. Explore the wildlife like tigers, leopards, black panthers, elephants, gaurs, deer, and much more in their natural habitat. If reptiles excite you, then Dandeli is a must to visit place for you.
Trekking, Hiking, visiting waterfalls, like Molangi, Sathodi, Skyes Point for the glorious sunset and hornbills, River Kali and Nagzari confluence, Synthiri Rocks, Kavala Caves and Crocodile park are some of the major attractions one can plan for.
Ideally, plan for 2 nights in Dandeli to ensure that you do not miss out on any of these activities and return with some memorable moments spent at Dandeli.
Karwar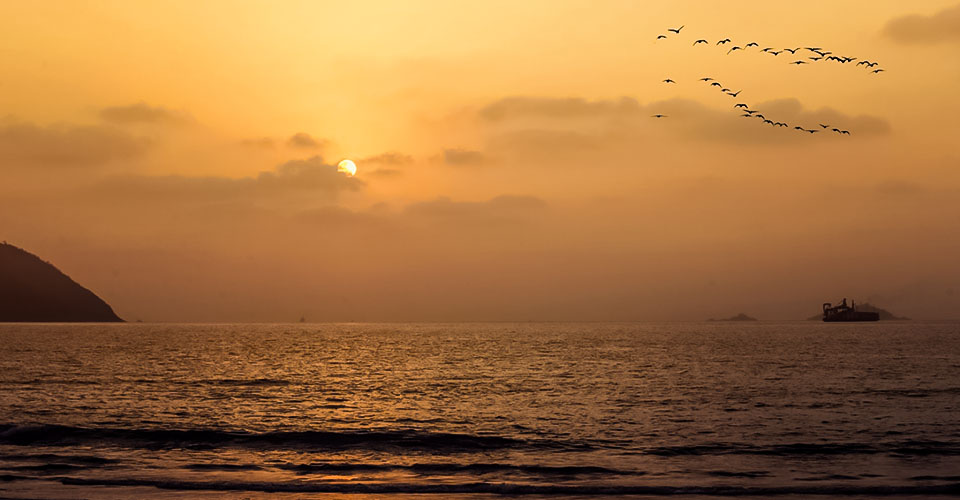 Karwar
As you leave Dandeli with some beautiful memories, Karwar's enthralling scenic beauty should take over your mind. Drive through the scenic lush green highways to reach Karwar in around 3 hours from Dandeli. Karwar is about 152 km from Dandeli and can be best reached via road. Drive down or take a public transport bus to reach this small town located by the amalgam of the Arabian Sea and River Kali. Of late Karwar is gaining popularity for its unusual attractions. Karwar is a one-stop destination for an array of activities to give you an adrenaline rush apart from the number of beaches it has.
Even a day is not enough to spend at the Karwar beaches as the beaches are the highlights of Karwar apart from many other things to do and see. Being a coastal town, Rabindranath Tagore beach is the most popular one and favourite with swimmers. The beach has a Rock Garden, Warship Museum, and an aquarium along the coast for young travellers. Looking for some 'me time to be spent in tranquillity on the beach then head out to Devbagh beach, Tilmati beach, Binaga beach and Majalli beach.
If watching Dolphins excites you then Karwar is the place for you. Visit Kurumgad Island, just 45 mins away from the main town and watch the Dolphins playing all through the year. The island can be reached by boat. The other activities you can indulge in are trekking, snorkelling, banana boat rides, river rafting, kayaking and many other water sports at pocket-friendly prices.
Heard of Yana Caves? Located at a distance of just 60 km from Karwar, this limestone rock formation, Yana caves are one of the most exciting rock formations and is the top attraction for rock climbers and trekkers.
The foodies can enjoy authentic local delicacies like fish fry, fish biryani, etc served at the local shacks and restaurants at the beach.
Gokarna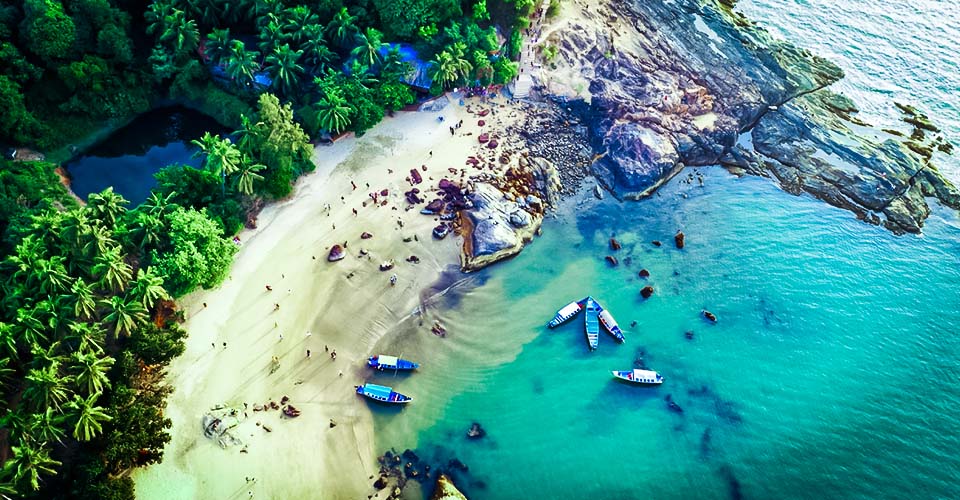 OM Beach
A perfect combination of a Hindu pilgrimage town with pristine beaches and breath-taking landscapes is Gokarna. Gokarna along with Karwar and Dandeli has become one of the most sought destinations in Karnataka. Gokarna offers places of worship, water adventure activities, trekking and much more. One of the most popular beaches is Om Beach. The beach is called for its shape of an 'OM' a Hindu spiritual symbol used for all auspicious occasions. Om beach has gained popularity across the world. The highlight of Om beach and Gokarna is the breath-taking sunset. Watching the spectacular sunset in the Arabian Sea is one of the favourite activities for most travellers. The other activities include Jet skiing, banana boat rides, parasailing, and surfing. If you are someone who loves to spend time in nature or walk in the woods, a hike to Om Beach viewpoint is an experience to cherish.
How to reach
This itinerary can be planned either from Bangalore or Mangalore. You need to start with Gokarna if landing in Mangalore. Gokarna is about 230 km and is 4 hour's drive from Mangalore. If starting from Bangalore, Dandeli should be your first destination.
The other cities are well connected by road. The awe-inspiring drive is worth from Dandeli to Karwar and finally to Gokarna.