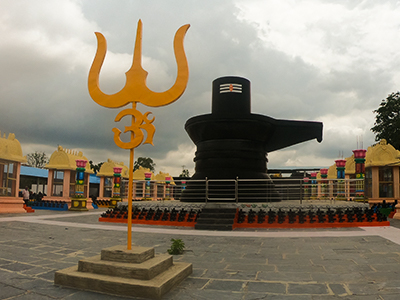 Kotilingeshwara Temple – The biggest  Shivalinga in Asia
As we are progressing towards slow and more meaningful travel, it makes sense to have more short trips in a year than a long one. Bangaloreans are always looking for short weekend getaways that they can manage amidst their busy work schedules. While trekking, hill stations, road trips, and historical places are always the most sought itineraries, temples in Karnataka hold a special place. Karnataka's historical monuments are something that attracts all genres. Kotilingeshwara Temple in the Kolar district is one such temple, though not very old but still attracts a lot of devotees and tourists.
Kolar is famous for its goldfields but unfortunately, as a tourist, you cannot visit them. However, a short drive from Bangalore to Kolar, about 70 km leads you to Kotilingeshwara Temple. A beautiful and scenic drive with green farmlands on both sides of the road, rocky terrain views, a well-maintained road leads you to the temple. Just 70 km away, the Kotilingeshwara temple visit offers something for everyone and can be done in half a day.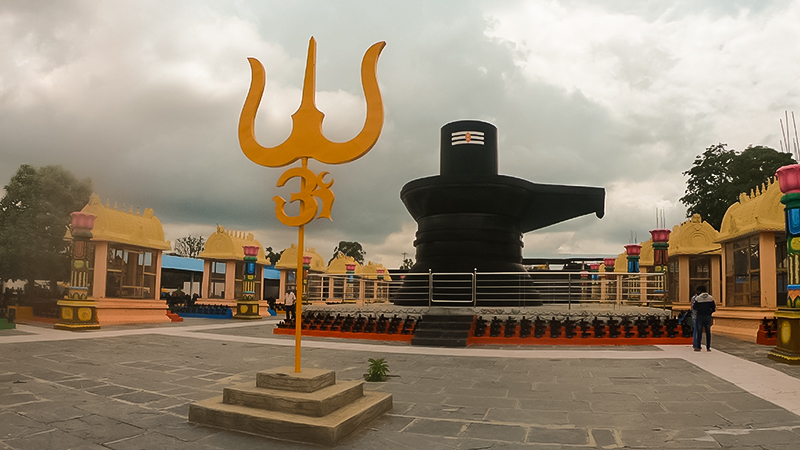 Kotilingeshwara Temple
About Kotilingeshwara Temple
'Koti' in Kannada means a crore and Kotilingeshwara is 1 crore Shivalingas. The temple with the tallest Shivalinga in the world is installed here along with 90+ lakhs of other Shivalingas of different sizes. The 33 mts high Shivalinga and 11 mts high Lord Nandi, the Bull are the main attractions of the temple. The temple is open for donations of Shivalingas of various sizes which can be installed with the name of the donor embedded on it.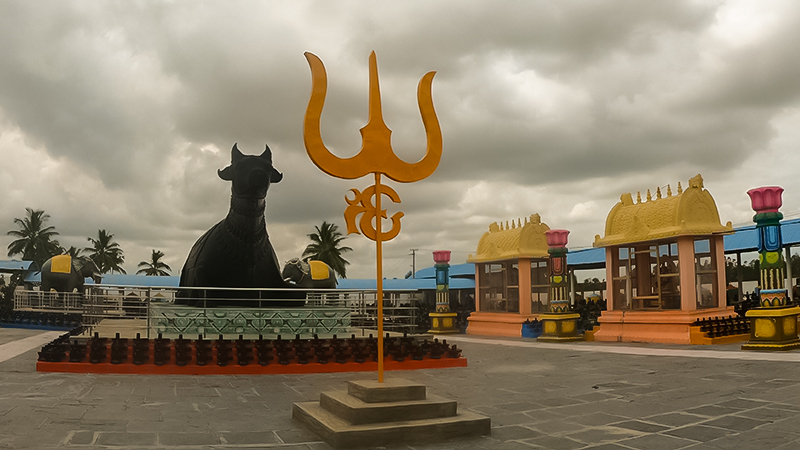 Lord Nandi at Kotilingeshwara Temple
In the year 1980, the temple was initiated and constructed by Swami Sambha Shiva Murthy. The road to the temple is easily approachable and is located in Kammasanadra, a small village in Kolar District. Even though there are a lot of devotees who visit the temple every day, the temple attracts millions of tourists on Maha Shivaratri. Shivaratri is a festival dedicated to Lord Shiva and usually appears in the the month of February- March.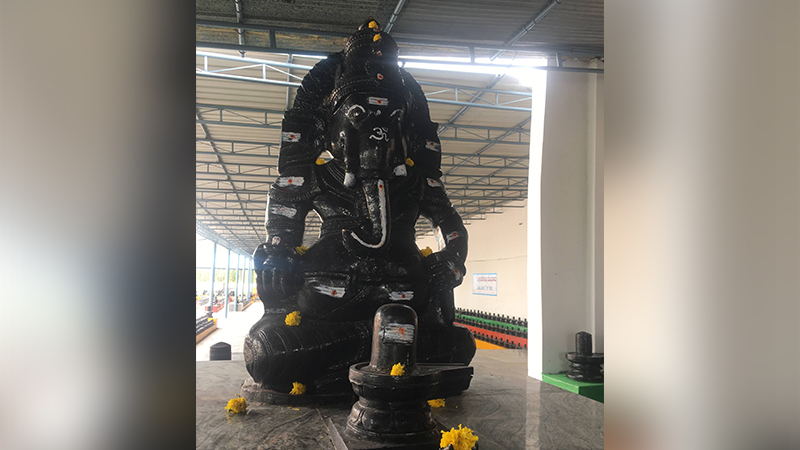 Lord Ganesha at Kotilingeshwara Temple
There are 11 smaller temples dedicated to the other deities like Lord Vishnu, Brahma, Mahesh, Rama, Goddess Annapoorneshwari, Goddess Karumaari Amma, Lord Venkataramani Swamy, Lord Panduranga Swamy, Lord Rama, Sita and Lakshmana Temple, Lord Panchamukha Ganapathy, Lord Anjaneya, and the Goddess Kannika Parameshwari Temple in the same premises.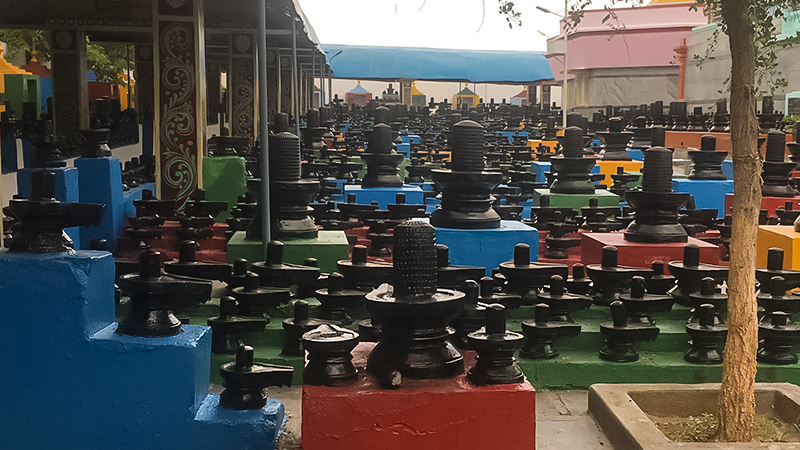 Shivalingas at Kotilingeshwara Temple
Amenities at Kotilingeshwara Temple
Since the temple is not very old, all the basic amenities are available to the tourist and devotees visiting the temple. There are washrooms, taps at various points for washing hands, a Marriage hall where mass marriages are organized, a meditation hall, and an exhibition center on the premises. There is a small market selling knick-knacks, small Shivalingas, and puja materials just outside the temple. There are ample parking spaces and food stalls available.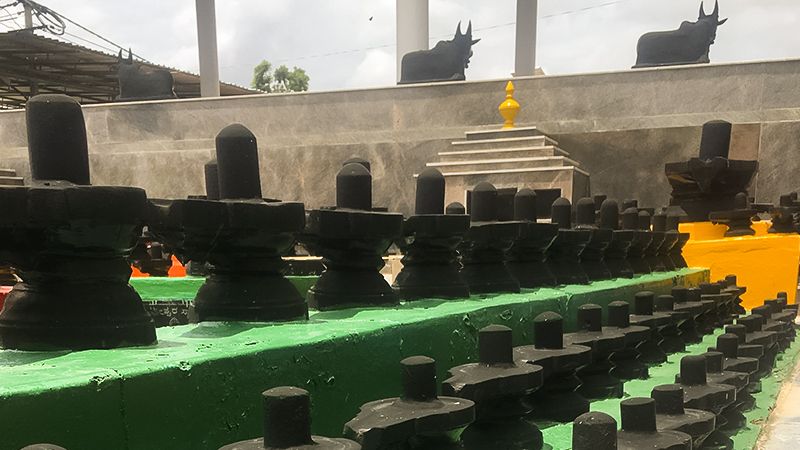 Shivalingas at Kotilingeshwara Temple
How to Reach Kotilingeshwara Temple, Kolar
By Air
Bangalore Kempegowda is the nearest airport. From the airport, travelers can hire taxis or take public transport to reach Kolar. It's about 100 km and takes nearly 2.5 hours to reach.
By Rail
There is a well-connected rail network from Bangalore, Mangalore, Hassan, and Hubli to Kolar.
By Road
Kola can be reached best by road from Bangalore. It takes about 2 hours and is a beautiful drive crossing through lush green farmlands on either side of the road.
Quick Info:
Temple Timings: 6:00 AM- 9:00 PM
Temple Entry Fee: Rs 20 per person
Camera Fees: Rs 100
Parking Charges: Rs 30
Shivalinga Installation Fee: Starts from Rs 6,000, anyone who wishes can get it installed in their name.
It takes about two and a half hours from Bangalore to reach the temple and the road is pretty good.
Know More how to reach Kolar