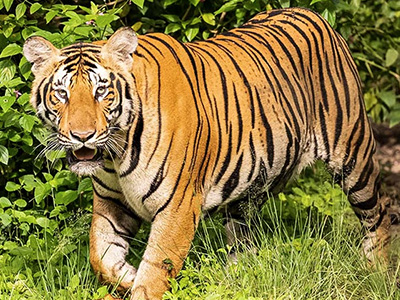 International Tigers Day
Do you know that India accounts for almost 80 % of the world's Tiger population?
Why is International Tiger Day celebrated?
Every year 29 July is celebrated as International Tigers Day to raise awareness and support for tiger conversation issues by mere sharing videos, infographics, and links to suitable content to involve more people in the cause. In the year 2010, 13 tiger range countries came together with a common goal to double the number of wild tigers by the year 2022. Currently, Siberian Tiger, Bengal Tiger, Malayan Tiger, Sumatran Tiger, and Indo-Chinese Tiger are the few living species.
Tigers in Karnataka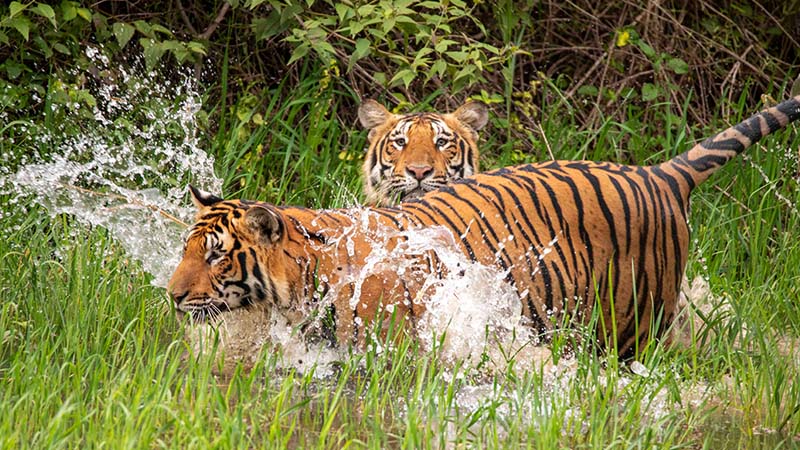 As per the 2010 census conducted by the Ministry of Environment and Forests, Government of India, Karnataka comes under the top three states in Tiger population in the country. There are 5 tiger reserves in the state namely Bandipur with a maximum number of tigers, Bhadra Reserve, Nagarhole National reserve, Dandeli – Anshi, and BRT Tiger Reserve.
BANDIPURA TIGER RESERVE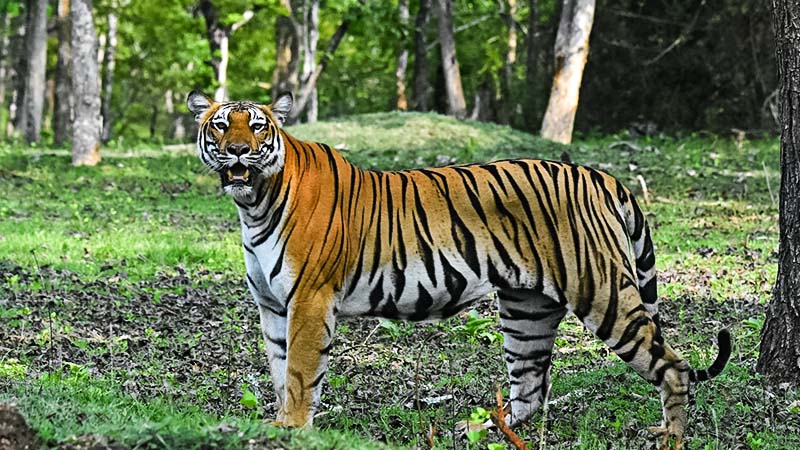 Located at the foothills of the Nilgiris mountain range, the Bandipur Tiger reserve area is an extension of the Mudumalai Tiger Reserve area. Spread across 874.20 sq km, Bandipur National Park was brought under Project Tiger in 1973. Bandipur is a part of the reserve area which comprises Nagarhole and Mudumalai reserve forests. The landscape is spread across three states namely Karnataka, Tamil Nadu, and Kerala, and comes under the Mysore Wildlife division however, the landscape is shared by two districts namely Mysore and Chamarajanagar. The other two reserves are known as Mudumalai Reserve and Wayanad Wildlife sanctuary. Bandipur National Park is home to many endangered wildlife and other vulnerable species of fauna and flora.
Bandipur is famous for, Elephants, Leopards, Dhole, Sambar, Sloth Bear, Chital, and Tigers of course. Bandipur is just 70 km from Mysore and 220 km from Bangalore.
Check here To know more about Bandipur National Park
BHADRA TIGER RESERVE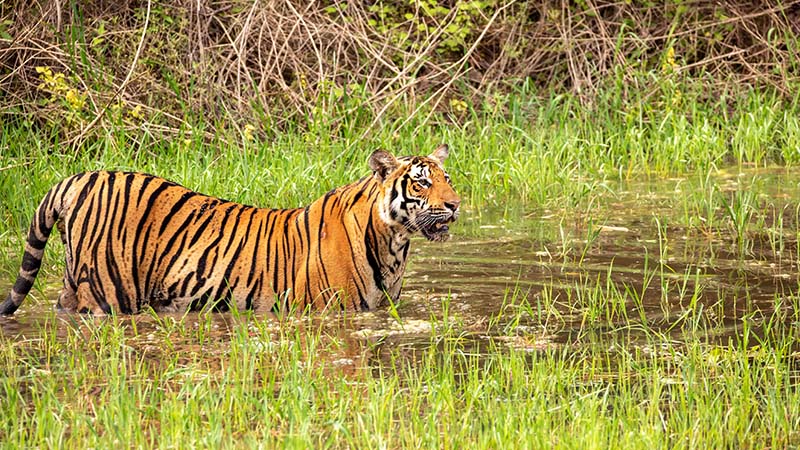 Just about 282 km away from Bangalore and 185 km from Mangalore lays this mesmerizing wildlife location called Bhadra Tiger Reserve. Bhadra Tiger reserve is home to over 120 species of flora across a forest area. The sanctuary is an abode to tigers, gaur, elephant, wild boar, sloth bear, black leopard, jungle cat, jackal, and many other birds and animals.The extraordinary landscapes consisting of surging terrains, steep hillocks, lush greenery, and fascinating meadows attract not just wildlife enthusiasts but also nature lovers. One of the other attractions is the Kallathigiri peak which is the highest standing tall at a height of 1875 meters. The gorgeous landscapes of the Western Ghats in Chikamagalur and Shimoga districts invite travelers apart from the wildlife seekers. Bhadra Reserve is the first one to complete a successful village relocation program and a success story in wildlife conservation in the country. One of the other attractions is a huge 300 years old teak tree with an approximate height of 36 mts and mid-girth of 5.84 mts.
Check Here To Know More About Bhadra Tiger Reserve
BRT TIGER RESERVE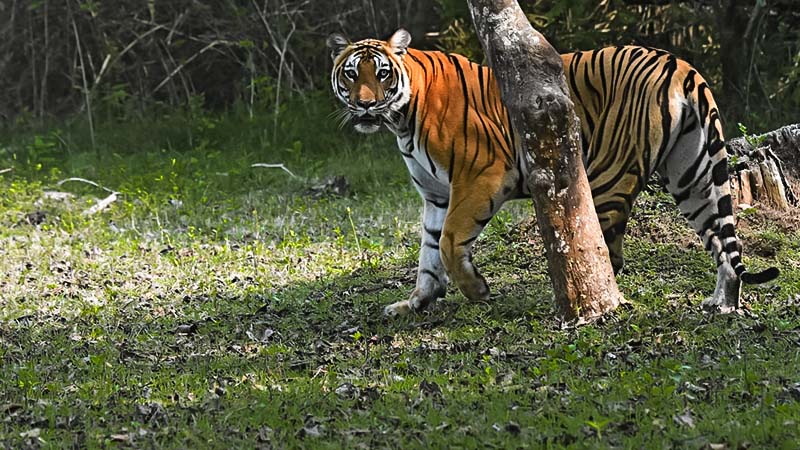 Popularly known as BR Hills, Biligiri Rangana hills are located in Chamarajanagar and are a protected reserve under the Wildlife Protection Act of 1972. However, the site was declared a Tiger Reserve only in 2011 by the government. The advantage of being at the confluence of the Western and Eastern Ghats, this tiger reserve is home to the best of the eco-system that is unique to both the mountain ranges. The uniqueness of the reserve lies in its varieties of shrubs, dry and wet deciduous forests, the misty hills, and the lush greenery all over. Biligiri in Kannada means white rock. The hill is crowned with the Lord Rangaswamy temple and is covered with white mist or silver clouds most of the year making it even more breath-taking. With more than 65 tigers, BRT is one of the most promising tiger landscapes in the world. Often compared to Kaziranga and Pench, BRT is a high-density tiger park.
Check here To know more about BRT Reserve
KALI TIGER RESERVE
Located in Uttara Kannada district, Kali Tiger Reserve covers Haliyal, Karwar, and Joida taluk's forest area. Declared as the Dandeli Wildlife Sanctuary in 1956, this forest area was carved out to form Anshi national park in the year 1987. The park later was renamed Kali Tiger Reserve in 2015 covering almost 250 square kilometers of area.
The park is home to Black Panther and elephants too along with the tigers. The other animals include Bison, Sloth Bear, wild boar, langur, deer, jackal, leopard, civet, and many more wild animals. You will also not miss the reptiles in the park like a cobra, Russell viper, krait, rat snake, and many more if you have a sharp eye. Apart from the flora and fauna, the reserve also hosts around 200 species of birds. These birds are resident and migratory.
Check here To know more about Kali Tiger Reserve
NAGARAHOLE TIGER RESERVE
Located in the districts of Mysore and Kodagu, Nagarhole Tiger Reserve is also known as Rajiv Gandhi National Park. With a total area of 643.39, the park was upgraded to the National Park in the year 1988 and is a paradise for wildlife. Surrounded by the Brahmagiri hills of Western Ghats on one side, Wayanad wildlife sanctuary, and Kabini Reservoir on the other side, it looks even more dense and mesmerizing. In Kannada, Nagarhole means Naga is snake and hole is a stream or a rivulet. The park got its name because of the number of streams and rivulets passing through the dense forest. One of the top 5 high-density tiger populations in the country, Nagarhole stands after Corbett and Kaziranga tiger reserves respectively. Amazing landscapes leave a wildlife enthusiast and a nature lover astonishing. One of the major and important tiger reserves of Karnataka it supports a large number of herbivorous and carnivorous species. Tiger, leopard, elephants, sloth bear, deer, Gaur, Cheetal, Sambhar, Antelopes and many more can be spotted easily.
Check here To know more about Nagarhole Reserve