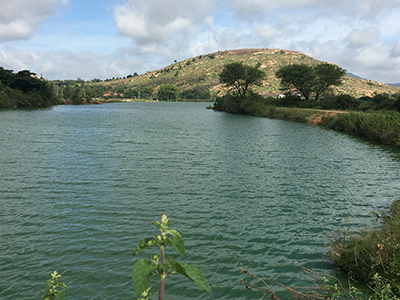 Avathi Betta Lake – A day trip near Bangalore
There is always a lookout for a weekend getaway away from the hustle-bustle of city life. Not just the millennials but also the families with kids and elders are looking for one. The idea is not to travel a long distance from Bangalore yet the place should be of everyone's interest. A quaint and picturesque location, just 50 km away from Bangalore, Avathi Betta is an ideal location for trekkers, bikers, nature enthusiasts, and photographers. Located at the foothills of Nandi Hills, Avathi Betta is a paradise, with small hillocks, a temple, and an astonishingly beautiful lake.
Things to Do and See
Sri Lakshmi Timmaraya Swamy Temple
There is no dedicated parking near the lake or the hillock (Betta), but you can park your vehicle near Sri Lakshmi Timmaraya Swamy Temple. A pristine said to be 500 years old temple is dedicated to great saint Goutama maharishi who is believed to have meditated here in a cave formation between large boulders situated below the temple. If you go from the other side, the way to the temple is via 200 steps which give magnificent views of Nandi Hills, Horegina Betta, Savanadurga, and Channagiri Hills.
Avathi Lake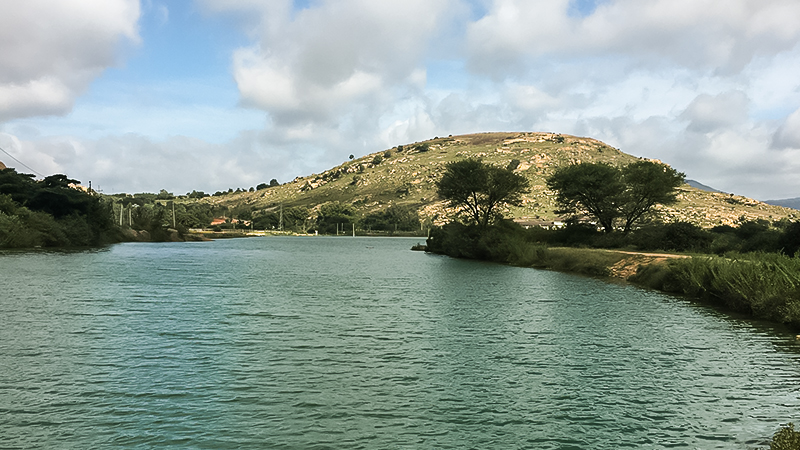 Avathi Lake
Imagine a landscape with hills in the background, a calm and shimmery lake, muddy trails to walk along the banks of the lake, a small temple of a local deity, and the fields of seasonal flora. A bed of orange marigold looks like the hills in the background and the lake in the foreground will take you to a dream. You need to pinch yourself to feel it for real. The source of a stream is unknown, but there is a surreal stream flowing from the hills meeting the lake. Get the inner child out of it and soak yourself up in the stream.
Though there is no way you can go closer to Avathi Lake, a boat ride will give the feel of these dreamy surroundings. You end up either taking a lot of photographs or just immersing in this natural lush green rustic virgin beauty.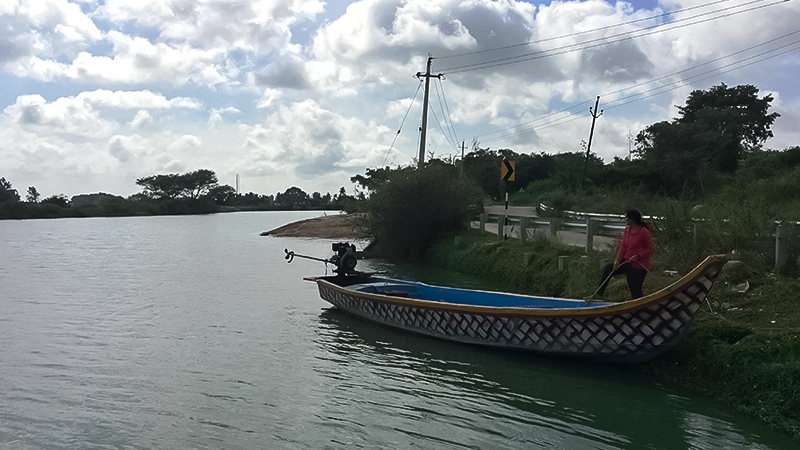 Boat ride at the Avathi Lake
Avathi Betta Hike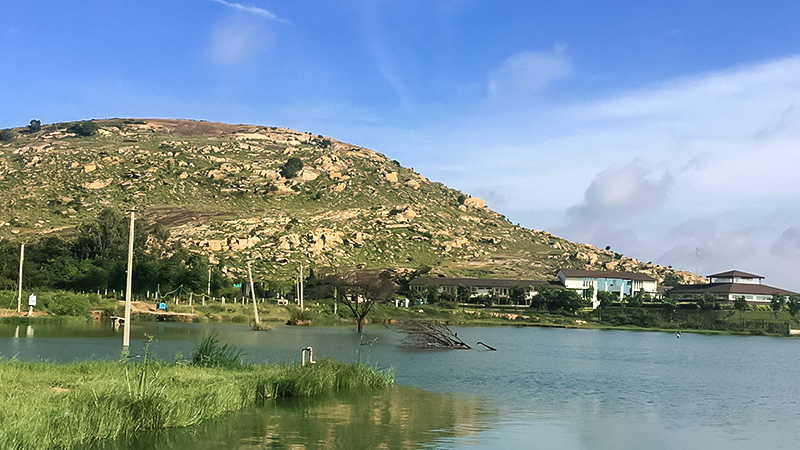 Avati Betta Hike
Although Avathi Betta is not a designated marked trail, you can still explore it. Avathi Betta is an easy hike for the complete family, amateur hikers, and woman travelers. Anyone who loves to admire nature and love to capture them through their lens Avathi Betta is the place for them.
Start your hike crossing the green fields to the boulders, enjoying the cool breeze near the lake with that beautiful clear sky on a sunny day or over the dark clouds. Bangalore is blessed with the weather and visiting any place is good throughout the year. Once you have climbed a bit, turn back and get mesmerized by the views. The lake you crossed surrounded by hills looks unimaginable. Spend some quality time in tranquillity at the lakeside or the hills.
How to reach
Avathi Betta /Lake is just 50 km away from Bangalore can be easily reached by your vehicle. You can also take a bus from Kempegowda Bus Station to Devanahalli and then take a rickshaw from there to reach the Avathi Betta. This will be a little tedious so going by your vehicle is ideal.
Important Information
It's an easy trek. Even the kids can do it comfortably.
You don't need permission to visit Avathi Betta, however, be a responsible trekker.
There is nothing available so carry your food and water.
At times the sun can be harsh so carry sunscreen, hat, and sunglasses.
Contribute to keeping the environment clean, bring your trash back with you.
Do not disturb the locals and the temple atmosphere.
Dress appropriately while visiting the temple.
Wear comfortable clothes and shoes.
Make sure you wear quick-drying clothes as there are no changing rooms in case you want to soak up in the stream.
Always wear a mask and carry a sanitizer.