Hampi- Aihole- Pattadakal- Badami
Karnataka, as the tagline says 'One state Many Worlds' is a perfect destination for every traveller. The remarkable heritage and history of the state attract history lovers, travellers, students, and all those who admire the magnificent architecture of the times. The Northern Karnataka sector has always been very special in terms of tourism because of the presence of UNESCO Heritage sites. Badami – Aihole- Pattadakal – Hampi is on a must-to-do list for every tourist visiting Karnataka.
Located in the heart of Vijayanagara District, which once was the capital of the Vijayanagara Empire, Hampi was its capital. Vijayanagara was part of Deccan (now Hyderabad) and dominated all of Southern India and was probably the strongest empire in the Indian subcontinent. Vijayanagara Empire is considered to have been a golden age of culture and learning.
A 4 days itinerary can be planned to keep in mind the distance travelled from Bangalore. One day each at Aihole- Pattadakal, Hampi, and Badami is enough. But if you wish to study the heritage sites deeper, you can choose to stay a little longer.
Day 1 – Hampi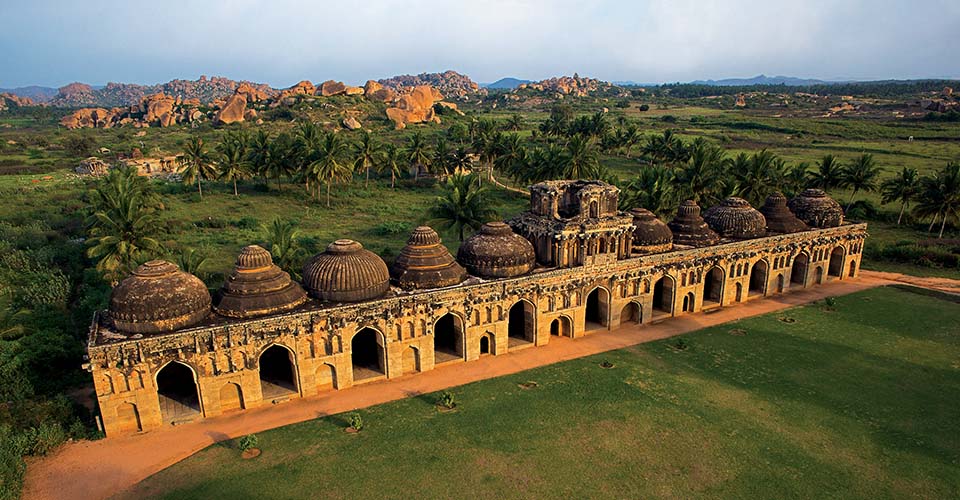 Hampi Elephant Stable
The iconic Chariot, the image of which can be seen on a 50 rupee note in Indian Currency, needs no introduction. A vast area of ruins, a live temple, a Lotus temple, and many more heritage sites in the compound makes Hampi the most visited monument in Karnataka. The glorious capital of the Vijayanagara Empire, Hampi is a UNESCO World Heritage site. A must-do destination, Hampi is famous for its historic significance, heritage, temples, ruins, and exquisite craftsmanship.
The major attractions at Hampi include Virupaksha Temple, Ugranarsimha Vigraha, Lotus Palace, Hampi Bazaar, Vittala Temple, and much more. The 7th century Virupaksha Temple dedicated to Lord Shiva with gigantic Gopuram is the highlight of Hampi. The temple is still active and the pilgrims offer prayers to their deity. The other attractions include Sasive Kalu Ganesha, Kadale Kalu Ganesha, Anegundi, Vijaya Vittala Temple, and Atal Bihari Vajpayee Zoological Park.
Spend some time at Hampi to understand and study the ruins of Hampi and its glorious historical past.
Day 2 – Aihole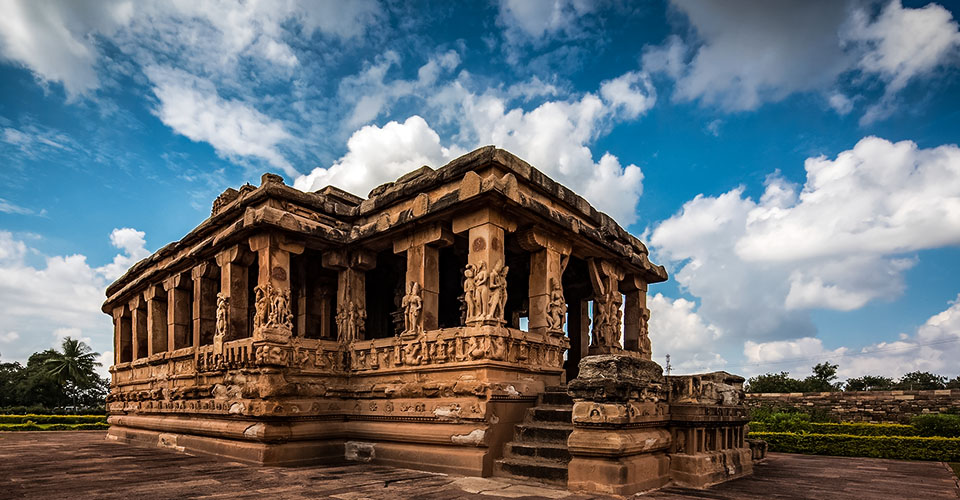 Vastuchitra Aihole
The next nearest destination to be planned can be Aihole. Just 140 km away from Hampi, Aihole takes about 2 and a half hours to reach by road. A cluster of around 120 temples from the 4th century AD, Aihole is a historic site along the Malaprabha river valley in Northern Karnataka. Aihole is a delight to visit for those interested in history, archaeology, architecture, heritage, and ancient temples. The most popular and the face of Aihole is the Durga Temple. A cluster of temples mainly comprises Hindu, Jain, and Buddhist temples. The Durga temple complex also has an art gallery and an archaeological Museum which should not be missed. There is a collection of exquisite antiques excavated from the region. Contrary to its name, Lad Khan Temple showcases the iconography from Shaiva, Vaishnava, and Shakti or Durga traditions of Hinduism.
Also known as the 'cradle of Indian Rock Architecture', Aihole was the first capital of Chalukyas, who ruled the north Karnataka region. The temples are now being conserved and protected by the Archaeology Survey of India. A 6th-century rock-cut Ravana Phadi Cave that houses Shiva and Parvathi is another attraction not to be missed. The caves consist of intricate craftsmanship featuring Lord Shiva, Parvathi, Ganesha, and Lord Vishnu.
The other famous temples are Garudagudi, Chakragudi, Ambigaragudi, Rachigudi, Kuntigudi, Hallibasappa Gudi, Badigargudi, Trimbakeshwar temple, Mallikarjuna Temple, and Jyotirlinga Temple.
Day 3- Pattadakal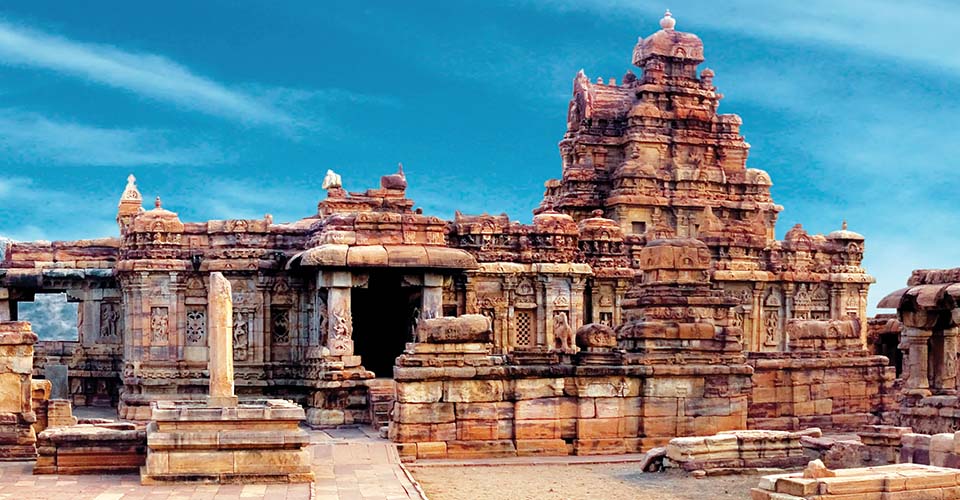 Pattadakal
Just 13 km away from Aihole Pattadakal takes about 20 minutes to reach. A UNESCO World Heritage site from the 7th and 8th centuries consist of Hindu and Jain temples. Unique craftsmanship depicts both the North and South Indian styles of architecture. Chalukyas used Pattadakal for coronation ceremonies. One of the main attractions at Pattadakal is Virupaksha Temple. Constructed by queen Lokamahadevi in the 8th century AD to celebrate her husband and King Vikramaditya's victory over Pallavas. Unparalleled craftsmanship at Virupaksha temple showcases the sculptures of Ugra Narshimha and Nataraja. The other popular temples in the complex are Papanatha temple, Galaganatha Temple, Sangameshwara temple, Chandrashekara temple, Kashi Vishwanath Temple, Mallikarjuna Temple, Jambu Lingeshwara Temple, and Kadasiddeshwar Temple.
One of the most attractive events at Pattadakal is the Pattadakal Festival. A mesmerizing amalgamation of music and dance with Pattadakal temples in the backdrop makes the festival a visual treat for the spectators.
Day 4- Badami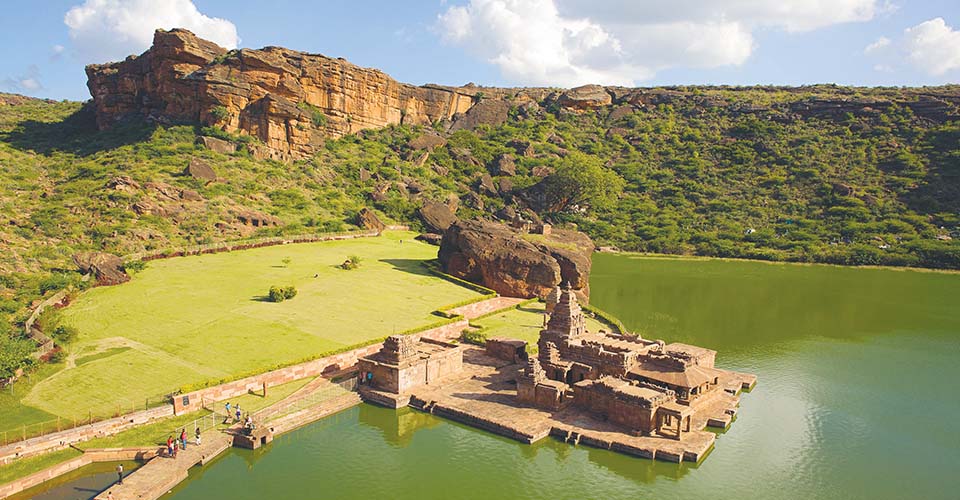 Badami
Formerly known as Vatapi and serving as the capital of Chalukyas, Badami was constructed between the 6th and 8th centuries. Located in the district Bagalkote headquarters, Badami invites tourists, travellers, researchers, and all those who love history and heritage for its sandstone cave temples and carvings. Badami cave temple complex is home to a Jain temple and three Hindu temples. The caves at Badami are based on themes depicting, Tandava Dance by lord Shiva, Lord Vishnu, and his carnations. The stunning and mesmerizing backdrop of Agastya Lake and cave temple landscapes, these monuments are of great historical importance and invite photography enthusiasts.
Another attraction not to be missed near Badami is the Bhutanatha temple complex. Just a kilometre away from the main Badami cave temples, these clusters of sandstone shrines were built over a period from the 7th to 11th century AD.
How to Reach
The Northern Karnataka Circuit comprising Hampi, Aihole, Pattadakal, and Badami can be best covered by road. Keeping the base station as Hampi, the other places of interest are within the 150 km range.
By Air
Hampi or Badami can be best reached by air either from Bangalore or Mangalore. Bangalore International Airport is 340 km from Hampi and Mangalore International airport is 460 km from Badami.
By Train
Hampi and Badami are connected via rail from all the major towns of Karnataka. For the trains coming from all other major towns of India, Guntakal is the major rail junction for changing the trains. Hospete is the station to reach Hampi.
By Road
The best and easiest way to reach these UNESCO Heritage sites is by road. The state-run transport buses ply from most of the major bus- stations in Karnataka. City cabs are also available at most of these locations. The nearest bus station is Hospete from where Hampi is just 12 km away and can be reached by local auto rickshaw.
Travel Tips
1. The weather in North Karnataka is usually warm and dry. However, it is cooler during winter. The best time to visit these heritage sites is between November to February.
2. Carry a layer of clothing for winter evenings.
3. Dress appropriately to respect the local traditions and beliefs.
4. Indulge in local / North Karnataka food like Jowar roti meals at local restaurants or homestays.
5. Make sure you wear comfortable shoes as there is a lot of walking involved.
6. Wear sunscreen and a sun hat. During the day sun can be a little harsh.
7. The best time to visit temples and other monuments is early morning or late evening hours.
8. Hospete or Hampi is the biggest town, hence most of the star-category hotels are available in Hampi and around.
9. Most of the temples are open from 7 am to 6 pm. ( kindly check the local timings before visiting the individual temples).
Other Places of Interest
While visiting the renowned UNESCO World Heritage sites, there are many other attractions or places of interest that one must incorporate into their itinerary.
Chitradurga Fort is one of the architectural and engineering marvels of its time.
Vani Vilas Sagar Dam is built across the river Vedavathi and is often visited along with Chitradurga Fort.
Mahakuta trek is one of the other major attractions in the area, especially for adventure seekers.
Chalukya Utsava : An annual cultural and heritage festival celebrated in Badami and Aihole, usually, in February every year is one of the other highlights. The musical festival also showcases sports games and competitions, wrestling competitions, stunt shows, and art exhibitions.
Mahakoota Temples just 6 km away from Badami, Mahakoota temples were built between the 6th and 8th centuries. Lord Shiva temples like Mahakuteshwara temple, Ardhanareeshwara, and others temples are worth visiting.
Know More About Hampi Utsav