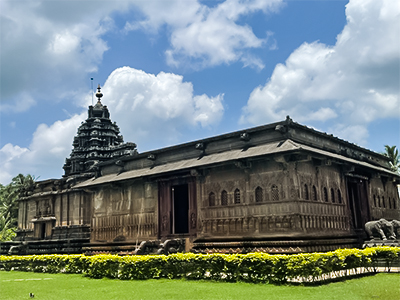 Top things to see and do in Shimoga
By Meenakshi Gupta
One of the lesser-explored destinations in Karnataka is Shimoga also officially known as Shivamogga meaning 'Shiva- Mukha' or the 'Face of Lord Shiva'. The district Shimoga is approximately 300 km away from the state capital, Bangalore. On the banks of River Tunga, Shimoga is often called as 'Gateway to Malnad' i.e. Western Ghats. With a strong historic past, heritage, and culture, nature at its best, Shimoga is one of the hidden gems of Karnataka. Ruled by various dynasties like Chalukyas, Kadambas, Gangas, and Hoysala, their rich heritage and architectural marvels can be cherished in the temples and monuments in Shimoga.
Being in the Western Ghat section, Shimoga gives ample opportunities to nature lovers, photographers, hikers, wildlife enthusiasts, and all those who love to explore waterfalls, trekking trails, mountains, hill stations, and viewpoints. It's a perfect getaway to enjoy wildlife, birds, and other species like butterflies, reptiles, etc. Shimoga is also the largest grower of areca nuts in India. One can visit an areca nut farm to know how the art of climbing an areca nut tree for plucking, and the process of sorting and packaging for further processing. It is a delightful sight to see the farmers climb the trees.
Spend about three days in Shimoga to explore the hidden gems and travel the roads less traveled. Listed below are a few must-to-do things to see in Shimoga.
1.Soak up in the beauty of glorious JOG FALLS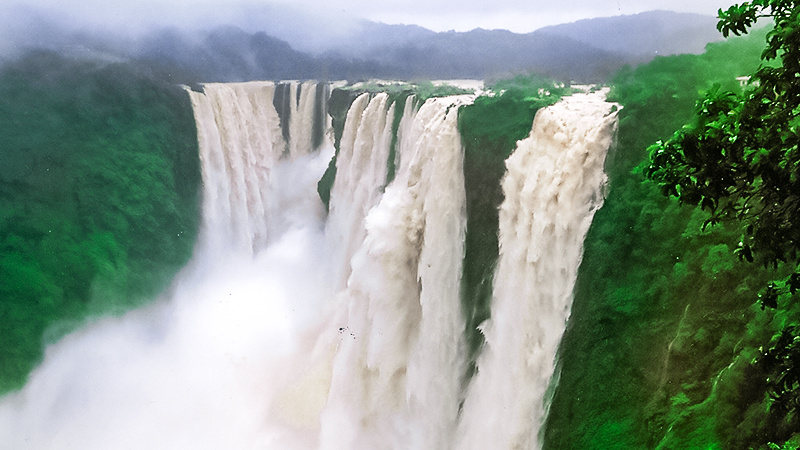 Jog Falls
A must to visit the place, especially after the monsoon is the pride of Karnataka, the majestic and glorious Jog Falls. Also known as Jogada Gundi or Gersoppa Falls, Jog falls are created by River Sharavathi and cascade down a height of about 253 mts. The breathtaking views of Jog Fall also known as Raja, Rani, Rocket, and Roarer will leave you spell-bound. Located at a distance of approximately 100 km from the district headquarters towards Karwar there is no way one should plan for such an iconic and the second-largest waterfall in India.
2.Mesmerizing Heritage- Keladi Temple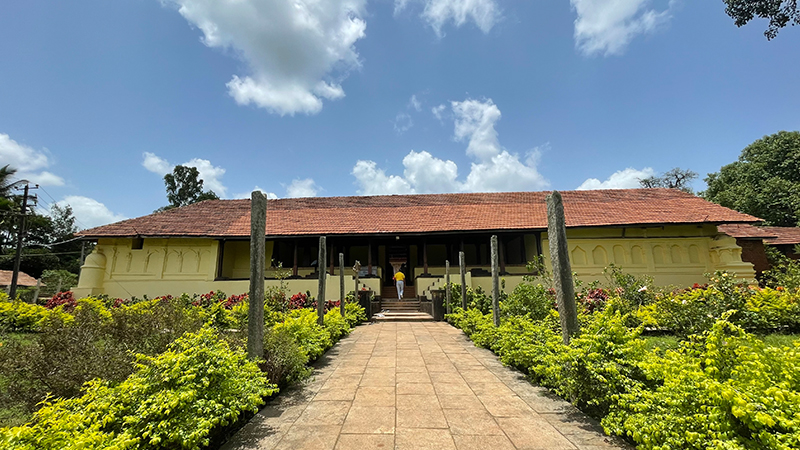 Keladi Temple
Just 80 km away from the main town in Sagar district lays this amazingly beautiful Keladi Rameshwara temple. Located in the town that was ruled by Nayaks or popularly known as Keladi rulers, the temple dating back to 1500 AD is an outstanding example of history, heritage, and architecture. Commissioned by Nayaks, who were part of the Vijayanagara Dynasty, the temple was constructed based on Hoysala –The Dravidian style of architecture. Exquisite and intricate carvings on the walls, ceilings, pillars, and gates are so very captivating. One of the attractions is the pillar in the backyard with the carvings of a woman paying homage to Lord Ganesha. This is 24 feet high pillar is believed to be of Rani Chennamma who bravely fought Sultan Aurangzeb.
3.Ikkeri Temple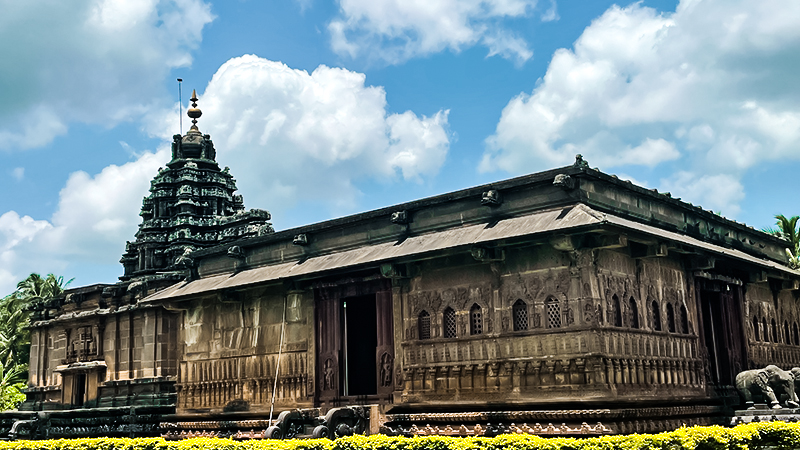 Ikkeri Temple
Also known as the twin temple to Keladi temple, Ikkeri is an Aghoreshwara temple. Dedicated to Lord Shiva, the Ikkeri temple also dates back to the 16-17th Century and was constructed by Nayaks, the then rulers. Situated just 6 km away from Sagar, Ikkeri in Kannada means 'Two Streets' is a heritage village. The grossing architecture of the temple is a unique blend of Vijayanagara and Dravidian styles. The temple is home to three shrines namely Goddess Parvati, Lord Shiva or Aghoreshwara, and his vehicle Nandi. The main attraction of the temple is the 32 female figure statues in front of Lord Shiva representing Shakti Peethas, forms of Goddess Durga. The Shivalinga in the temple is believed to be self-manifested and was found in the dense forests of Shimoga. The temple exhibits an intricate carving, an excellent testimony of the craftsmanship and architecture of the time.
4.Sakrebyle Elephant Camp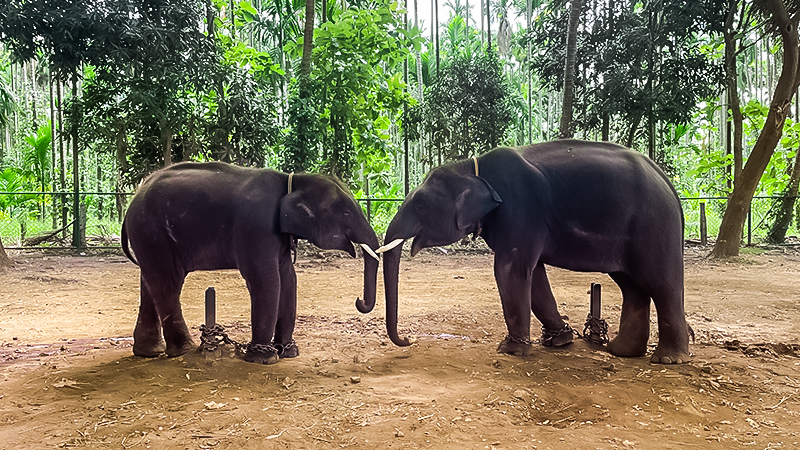 Elephants at Sakrebyle Camp, Shimoga
A visit to the abode for elephants known as Sakrebyle Elephant Camp is a must when you are in Shimoga or planning for Shimoga. Located at the banks of the River Tunga the camp houses rescued elephants. The elephants rescued from the forests with behavioral disorders or those who need medical help find shelter here. Just 14 km away from the main town, Sakrebyle is not a zoo but a habitat to observe, bathe, feed, or ride an elephant.
5.Off-Roading in Kodachadri Hills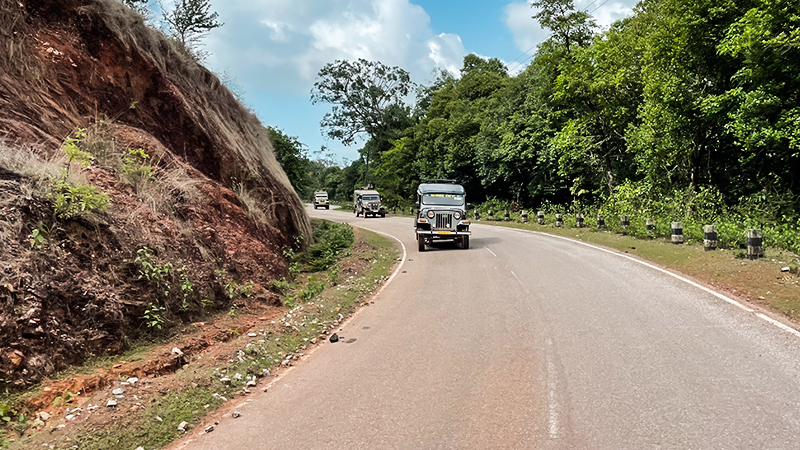 Kodachadri Hills
When in Shimoga, there is no way one should miss a trek to Karnataka's 10th highest peak, Kodachadri Hills. Breath-taking views of dense lush green forest with fauna and flora and mesmerizing views of sunrise and sunset will compel you to trek this 4 km route standing high at an altitude of 1343 m above sea level. However, if you do not wish to trek or cannot trek but do not want to miss out on those gorgeous views, get an enthralling experience of a 4×4 jeep off-roading drive up to the hills. An adventurous and thrilling experience of a jeep ride takes about an hour driving you crazy from the scenic roads.
6.Malgudi Days Museum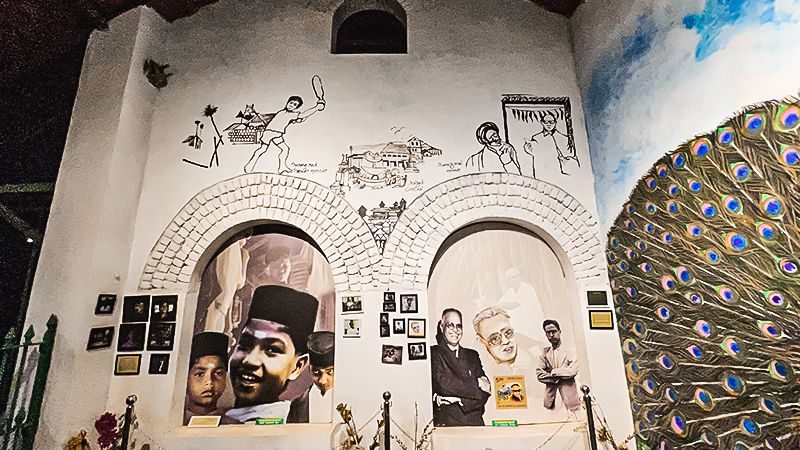 Malgudi Days Museum, Shimoga
Nostalgic about your childhood memories of the Malgudi Days series? A visit to Arasalu railway station will take you back to the 80s and 90's when the popular television series depicting short stories of a boy Swami, was introduced. The series based on the short stories by noted writer R K Narayanan was shot in this small village in Agumbe in the Western Ghats. This iconic railway station is dedicated and now converted into a museum called Malgudi Days Museum. The museum showcases the items used in the series like vessels, bicycles, clothes, etc, illustrative short stories and information about Malgudi Days on the wall, and statues of Swami and his friends.
7.Water Sports
Jetskiin At Shimoga
Love action and thrill? Check in to Sharavathi Adventure Camp, Jungle Lodges, and Resorts in Shimoga for an array of thrilling and exciting water sports activities. Explore the adventurous activities like Jet Skiing, Kayaking, Coracle boat ride, pedal boating, speed boat ride, water trampoline, hiking, and much more in the lap of nature. Sharavathi Adventure Camp is located on the banks of a lake and is a part of Jungle lodges & Resorts. You can book your stay online. Experience the magical evening by the lakeside enjoying dinner and a bonfire.
Shimoga is one of the less-traveled destinations in Karnataka. Explore the hidden gems of Karnataka along with many other places like Honnemaradu, Kavaledurga Fort, Nagara Fort and much more.