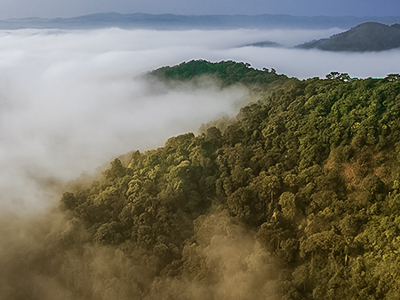 Places to Visit in Karnataka during Monsoon
The hot cup of freshly brewed coffee from the coffee land of Karnataka on a chilly misty day in the summers is what a pluviophile wants! Of late monsoon is celebrated in a big by the travel and tourism industry too. The places to visit in Karnataka during the monsoon have become must-to-do destinations. The lush greenery, overflowing waterfalls, gushing rivers, flowing rivulets, misty hills, windy beaches, fauna and flora and the wet roads, the travellers want to touch, feel and just be there what they have seen in movies or magazines.
Gone are the days when travellers stayed indoors and the monsoon was only eating pakoras and samosas. Over time travellers have evolved and post scorching summers, they cannot wait till the autumn or winters to travel. Monsoon especially the Western Ghats in Karnataka is the most sought location during monsoons. To travel during monsoon in Karnataka has a little edge over the rest of the country. Not just the travel, trekking in monsoon has also gained popularity in the last few years.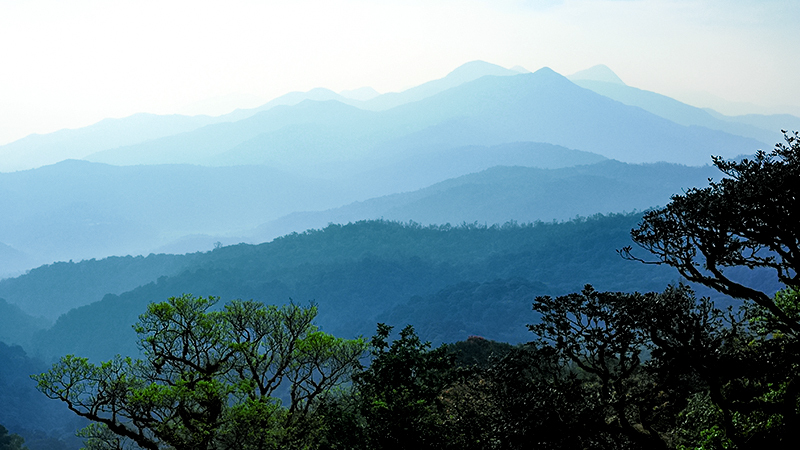 If you are one with nature, the Monsoon season in Karnataka can take a high aim to be your paradise with its overwhelming greenery and bewildering beauty. The onset of the monsoon season in Karnataka swivels it into a majestic land. While the Western Ghats showcase their captivating glamour, the coastal regions near the Arabian Sea delve into an inexplicable scenic beauty when the first drop of rain hits the surface. The gorgeous display of beauty by nature during the monsoon in Karnataka remains unparalleled to this day. While the southern and coastal regions receive a higher level of downpour, the charming Western Ghats increase manifold as the rain forests spread out into a thousand overwhelming shades of greenery. Giving relief from the summer sun, the temperature during the day plummets to 28 degrees Celsius and to make it even better, goes as low as 20 degrees Celsius during the night. The soothing weather acts like the perfect icing to the cake alongside waking up to nature's perfection.
Even with limited options for sightseeing due to heavy rainfalls, there is a wide list of other exhilarating experiences you can explore as the downpour only adds to the scenic charm of the listed places:
Rainforests of Agumbe

Agumbe-Ghat
Known for its vast range of innumerable waterfalls, lavish biodiversity and natural splendour, Agumbe is home to the highest altitude in the Shimoga district which receives the highest rainfall in the state and is popularly known as the Cherrapunji of the South. Agumbe also offers numerous trekking trails in its lush green forests that preserve an abundance of rare and exotic biodiversity.
Agumbe is one of the most romantic destinations in the country and has a presence in many blockbusters of Bollywood and south Indian movies. Agumbe is a part of Western Ghats which is a UNESCO Heritage site.
How to reach: Agumbe lies in the Malnad region and is closer to the Mangalore airport. To reach Agumbe one has to travel by road to admire the lush green deep valleys from the Ghat section. The twists and turns make the journey an exciting one. It takes about an hour and a half from the district headquarters in Shimoga by road.
Stay in Agumbe:  The best views of the picturesque landscapes are from the local homestays. To have authentic Malnad cuisine on a rainy day choose a homestay for that perfect monsoon vacation. Agumbe has multiple options for staying suiting everyone's budget.
What to see: Driving on the misty roads in the Ghat section overlooking the mesmerising views of the deep gorgeous valleys should be the agenda when visiting Agumbe. Gushing rivulets, roaring waterfalls like Sunset point, Jogi Gundi, Jog Falls, Barkana Falls, Onake Abbi, Agumbe Reserve Forest Station to study the conservation of rainforests, Trek up to Kavaledurga fort, Arasalu Station for the dramatic recreation of iconic Malgudi Days village to name a few. Agumbe is also famous for the highest number of snakes in the country. So if you are a reptile lover, look for King Cobras in the region.
Scotland of India, Coorg

Coorg
World-famous for its scenic beauty, Coorg emerges to a whole new level of breathtaking splendour as the rain pours over the lush green coffee plantations covered in thick foggy mist making it look as mystical and unreal as the heavenly Garden of Eden. The panoramas of Madikeri town, the highest point Raja's Seat and the Abbey Fall render Coorg to be nothing short of a fairyland. Monsoon or no monsoon, Coorg is one of the most favourite destinations which has repeat travellers.
How to reach: Like any other hill station, Coorg can also be reached best by road. The nearest airport is Bangalore and the nearest railway station is Mysore. Both Bangalore and Mysore are well connected via air, rail and road. It takes about 6 hours from Bangalore and 3 hours from Mysore to reach Coorg.
Stay in Coorg: Coorg is one of those destinations which has gained popularity and is a go-to destination for all kinds of travellers. The internationally acclaimed destination has an array of staying options to suit everyone's budget. If you are a foodie you will relish the authentic Coorgi delicacies especially Pandi-Curry which is served with love during homestays. The hospitality of home stays is beyond par.
What to see: While this small town has enchanting views of rain-soaked aromatic plantation views, there is a lot more to see and do in Coorg. Monsoon paints the town red with exotic flora and happy chirpy birds all over. Whether you are adventurous at heart or indulge in a relaxed holiday, Coorg has it all. Unleash yourself in river rafting in Barapole River, Monsoon treks, nature walks in coffee plantations, bathing elephants in Dubare Elephant Camp or soak up under the splendid waterfalls like Irupu, Abbey and many others. Enjoy a walk-in plantation with the melodious chirping of resident and migratory birds; sip a cuppa of home-grown aromatic filter coffee and enjoy the petrichor for a quaint and relaxed holiday in tranquillity.
Adventurous Dandeli

White Water Rafting in Dandeli
Popularly known as the adventure capital of South India, Dandeli is a beautiful city in the state of Karnataka, located at an altitude of 1551 ft. above sea level on the rocky trails of the Western Ghats. A beautiful place synonymous with peace and adventure, Dandeli is home to untouched green landscapes housing a wide range of flora and fauna, colossal mountain ranges, nature reserves and fascinating wildlife. Apart from other exciting sites in this beautiful city, the Dandeli Wildlife Sanctuary takes the cake! Home to over 200 different species of birds, this sanctuary with its dense deciduous forests, is a bird watcher's paradise providing a unique experience of crocodile spotting along with white-water rafting activity in the Kali River that draws the attention of adventurists from all around.
How to reach: The nearest airport is Belagavi which is connected to Bangalore and Mumbai. It's a 2 hours drive from Belagavi and 8 plus Bangalore. The distance from Bangalore to Dandeli is approximately 450 km.
Stay in Dandeli: Luxurious to pocket- friendly to tree cottages, Dandeli has it all. The stay in forests in wooden houses or the resorts with all modern amenities is available in Dandeli. Monsoon and post-monsoon are the best time to visit Dandeli and mostly runs on full occupancy. Make sure you reserve your stay well in advance.
 What to see:   One of the most exciting, thrilling and adventurous villages in Karnataka is Dandeli. Located on the banks of River Kali, Dandeli is a perfect location for nature lovers, wildlife enthusiasts, adventure lovers, and photographers. An iconic white-water river rafting in River Kali attracts tourists and adventure seekers from across the world. Look for Black Panther, trek to Nagjhari falls and Kavala caves and sunset from Ganeshgudi hills are some of the must-to-do activities in Dandeli.
Sakleshpur, aromas of coffee, cardamom and pepper plantations

Manjarabad fort Sakleshpur
Located on the foothills of the Western Ghats in the region of Malnad, Sakleshpur is a hidden gem and a mesmerizing little town that offers spellbinding trekking trails which is a delightful experience alongside the lush green hills copiously abundant with tea, coffee, cardamom and pepper plantations. This magical little town is a treasure trove of splendid waterfalls, majestic monumental forts, grand temples, breathtaking mountain hikes and biodiversity hotspots. A majestic place for an extraordinary experience, Sakleshpur has it all covered! One of the off-beat monsoon hill-station in Karnataka is a quaint locale with pristine lakes and waterfalls and exquisite meadows.
How to reach: The best way to reach Sakleshpur is by road. Located just an hour away, Sakleshpur is only 40 km away from the district headquarters Hassan. Hassan can be reached by road or rail. The nearest airport is Bangalore which is 250 km. There are trains and state-run buses that ply from various parts of the state and are easily accessible.
Stay in Sakleshpur:  Homestays and resorts are the best options available in Sakleshpur. Beautifully designed self-contained resorts and homestays are available to suit every budget. Make sure you check the availability and reserve your stay in advance. Sakleshpur is a monsoon destination.
 What to see:  Once called a destination for nature lovers, and trekking enthusiasts and a paradise for those who love slow travel is now an all-around destination. A coffee county that is part of Bisle Forest Reserve has so much to see and do. Plan for at least 3 nights and explore the nearby areas too. There are many trails that even a beginner can enjoy hiking up like Jennukal Gudda, Pandavara, and sunset hill trails. Do not miss out on other places of interest like Belur- Halebidu, Sravanabelagola, Manjarabad Fort and Shettihalli church to name a few which are in close vicinity.
Chikkamagalur, Coffee land of Karnataka

Bengaluru – Chikmagalur Road Trip
Whenever anyone talks of monsoon destinations, Chikkamagalur tops the list. Drive through the lush greenery, misty hills, scenic Ghat section, flora in abundance, coffee blossoms, surging waterfalls and much more to make your monsoon destination a memorable one. Located at the foothills of the highest peak in Karnataka, Mullayangiri, Chikkamagalur is a nature lover's paradise.

How to reach: Like any other hill station, Chikkamagalur can be reached best by road. Just 250 km away from Bangalore, the state capital, the drive to Chikkamagalur is amazingly scenic. Located in Hassan district, Chikkamagalur is just an hour or 60 km from the district's main town.
Stay in Chikkamagalur:  Being the most popular and niche destination, Chikkamagalur has an array of starting options from luxurious hotels to sustainable and eco-friendly homestays. Most of the sight-seeing attractions are accessible from the main town hence you can choose to stay based on the comfort you are looking for.
What to see: This pristine hill station has a lot to offer. Gushing waterfalls like Hebbe, Jhari and Manikhyadhara are the most popular ones. Peaks like Baba Budangiri, Kudremukh, and Mullayangiri are the star attractions of Chikkamagalur. Standing tall at 6316 feet, Mullayangiri is the highest peak in Karnataka. Horanadu, Sringeri, Belavadi, Kemmanagundi, Muthodi Forest Camp, Angadi and Marle, the ancient temples from the Hoysala dynasty are the main attractions.