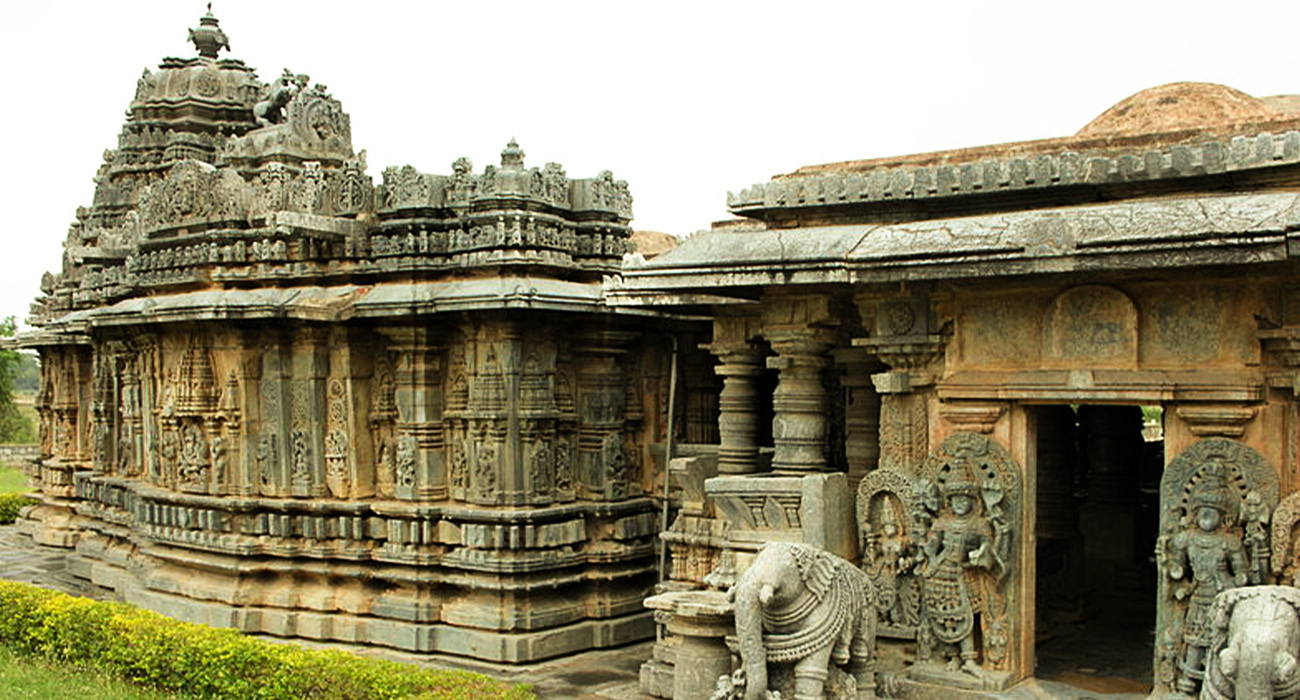 When we think about the holidays, we often write down the famous places we will explore. However, travelling is not only about visiting popular tourist places, but its true essence lies in exploring the hidden gems. Witnessing the allure of unexplored places can sometimes bring unforgettable experiences. If you are planning a trip to Karnataka, here are some secluded treasures that you must visit –
Gummanayaka Fort
Tucked away from the bustling cities near the town of Bagepalli, Gummanayaka Fort is an ancient site untouched by human interference. Now in ruins, the fort has a lovely lake at its base and an old temple. The walls of the fort and the temple are embellished with unique erotic sculptures and indo-Islamic art. You can also climb up the fort and witness the surreal surroundings.
Bucesvara Temple
Located 184 kilometres from Bengaluru, Bucesvara Temple is an ancient site known for its magnificent architecture and religious aura. This 12th century Shiva temple is a masterpiece of Hoysala architecture, glorifying the region's jubilant past. The temple is surrounded by other historic sites and green trees, adding to its beauty and charm. This temple is protected as a memorial of national importance by the Archaeological Survey of India.
Devarayanadurga Hills
If you are a nature lover and adventure enthusiast, head to Devarayanadurga Hills or DD hills. Just 72 kilometres from the city, it is a perfect place for a weekend getaway amidst natural surroundings. Surrounded by lush green forests and ancient temples, this lovely gem will allure your senses. Though less popular than other trekking destinations, it is an ideal choice for those who are planning to try their hands on trekking.
Jogimatti Forest
Covering a sprawling area of over 10,048 hectares, Jogimatti Forest is a pristine hill station where you can enjoy nature in its full glory. The forest reserve is rich in wildlife – heaven for wildlife lovers and photographers. Not only this, but the region also has a small zoo called Adumalleshwar, offering an opportunity to be up close with various animal species. The hill station is located at a distance of 208 kilometres from the state capital.
Gudibande Fort
Leave the commotion of the city behind and take a weekend trip to the Gudibande Fort. Even though most of the structure is now in ruins, this 17th-century fort still has much to offer! It is located around 100 kilometres from Bangalore, atop a natural hill. A visit to this fort offers a relaxing gateway and an exciting trek to the top. You will be mesmerised by soaking in the panoramic views of the surrounding landscape.
Balmuri Falls
Balmuri Falls, located 138 kilometres from Bengaluru, is an excellent place for a picnic with your family or friends. Green coconut palms and trees adorn the coast. You can either spend some leisure time near the falls, play in the water, or enjoy boating. If you are lucky enough, you might catch crocodiles, fishes, and other aquatic animals in their natural habitat. Also, don't forget to try fresh fish fry and other delicious seafood.
Madhugiri Fort
Madhugiri Fort lies in Karnataka province and is 105 kilometres from Bengaluru. The fort, famous for its architecture, was built by the Vijayanagar Dynasty. It is situated on a steep slope of the hill. It takes about two hours to reach the top of the fort while admiring the wonderful environment and stunning architecture.
Read More About Madhugiri Fort
Lake Thonnur
Situated in Mandya, Karnataka, Lake Thonnur is an unexplored paradise for those looking for relaxation and peace. This natural lake expands over 2150 acres of land, offering various exciting activities to enjoy. You can enjoy a family picnic, go fishing, or take a boat ride. Surrounded by ancient temples and natural beauty, lake Thonnur is one of the best places to visit in Karnataka.
Vani Vilas Dam
Built by the Mysore Maharajas across the Vedavathi River, Vani Vilas Dam is an example of brilliant architecture and engineering. It is the oldest dam in the state, with tons of fun activities to indulge in. While the backwaters offer excellent water sports, the Marikamba temple is ideal for a religious trip. Panchavati garden, located nearby, is one of the popular attractions in the region.
Apsarakonda
Apsarkonda, which signifies the pond of angels, is a thriving tourist town located 476 kilometres from Bengaluru. The myth behind the waterfall's name is that it was the chosen place for the angels to bathe and rest. Hidden behind the Narasimha temple, Apsarkonda is blessed with gorgeous blue waters, lush green fields, and chirping of the birds. The pleasant beauty of this place will leave you spellbound.
Karighatta Black Hills
Karighatta Hill is a great place for immersed spiritual experiences. The enchanting view of the surroundings, cool gushes of wind, and chirping of birds will allure you to the core. Located just 124 kilometres away from Bangalore, this place is a must-visit, especially when you are seeking peace and rejuvenation.
Maravanthe Beach
Whether you wish to soak in the sun, play in the waters, or take a boat ride, Maravanthe Beach is the place to be. With the stunning Kodachadri hills forming the backdrop, it is one of the most pristine locations in the state. Miles of unspoilt golden sand, glittering water, and swaying palm trees makes it a charming destination for adults and children alike. For those looking for a spiritual retreat, the Maraswamy temple is also situated across the road.
Read More About Maravanthe Beach
Honnemaradu
Another less explored site in the state in Honnemaradu. Situated on the backwaters of River Sharavathi, it is home to various water sports. It is a famous site for kayaking, boating, and other water activities. In addition, Honnemaradu offers a delightful experience to ardent bird watchers with a rich variety of bird species.
Read More About Honnemaradu
ARBI Falls, Manipal
The lesser-known seasonal waterfall is accessible by a short trek. Get ready for a quick dip or a picnic amidst the captivating surroundings and lush greenery. So, next time you plan a visit to Karnataka, do visit this pristine spot for a perfect getaway.
Shivagange
Shivagange is a mountain peak with a height of 1300 meters. The sacred mountain, which is located 53.4 kilometres away from Bengaluru, is shaped like a shivalinga. A gorgeous spring flows near a place called "Ganga", thus giving the place its name. It is a scenic trekking trail with a great historical influence.
Banavasi
One of the oldest cities in the state of Karnataka, Banavasi is a delight for history buffs. It is home to some of the most ancient architectural monuments in southern India. Madhukeshwara Temple, Gudnapur, and Balligavi Kedareshwar Temple are some of the architectural marvels representing the region's glorious past.
Delta Beach
Delta Beach or Kodi Bengere beach is a secluded, lesser-known beach located around 18 kilometres from Manipal University. This serene and peaceful beach is situated at an estuary where the Swarna River meets the Arabian Sea. Take a stroll around, soak in the natural beauty, or enjoy the stunning views. Hungry? You can relish fresh seafood delicacies that will tantalise your taste buds.
Jomlu Theertha
Jomlu Theertha Falls is a spectacular waterfall created by River Sita amid natural beauty and scenic views. Located in the Someshwara Wildlife Range, the waterfall is at a distance of 4o kilometres from the town of Udupi. You will be enthralled by the soothing sound of falling water and the calm atmosphere. It is indeed one of the best places to relax your senses and enjoy some quality time with your loved ones..
Manipal Railway Bridge
Manipal bridge built over the Suvarna river offers a thrilling experience like no other place in the state. Besides the natural settings, the adventure of trains going by is a cherishing experience. There are certain places around and below the bridge from where you can enjoy the beautiful sunset.
Shrines at Karkala
Located 362 kilometres from Bengaluru, St. Lawrence Shrine or Attur Church is a Roman Catholic church in Karkala. It was built in 1759 and is said to have been the site of many wonders. This place will capture the heart of history buffs and art lovers at once.