Melkote- Cheluvanarayana Swamy Temple
 A visit to Mandya or Mysore will be incomplete if one has not included the Cheluvanarayana Swamy temple. Located just 50 km before Mysore on Bangalore –Mysore route at a distance of 133 km from Bangalore, Melukote is a must to do things in Karnataka. An ancient temple means a fort on the top translating from the Kannada language where 'Melu' is top and 'Kote' is a fort. A popular pilgrimage destination in Karnataka also known as Thirunarayanapuram is built on a rocky hill called Yadugiri. According to historians, in the 12th century, the great Vaishnava saint, Sri Ramanujacharya lived here for 14 years and thus it came into the notice and became an important centre for Vaishnava. However, the temple existed even before Sri Ramanujacharya visited the place.
Melkote temple premises have various sections with two major temples, a Sanskrit library, a step-well pond, and much more. Dedicated to Lord Vishnu, the main temple is known as Thirunarayana or Cheluvaraya and was installed by Lord Krishna. The temple is under the patronage of the Mysore Royal family, Wodeyars.
Although the pilgrims flock to the temple from all over the state and the neighbouring state, it is also a prominent location and has boosted Tourism in Karnataka.
Places to see and visit around Melkote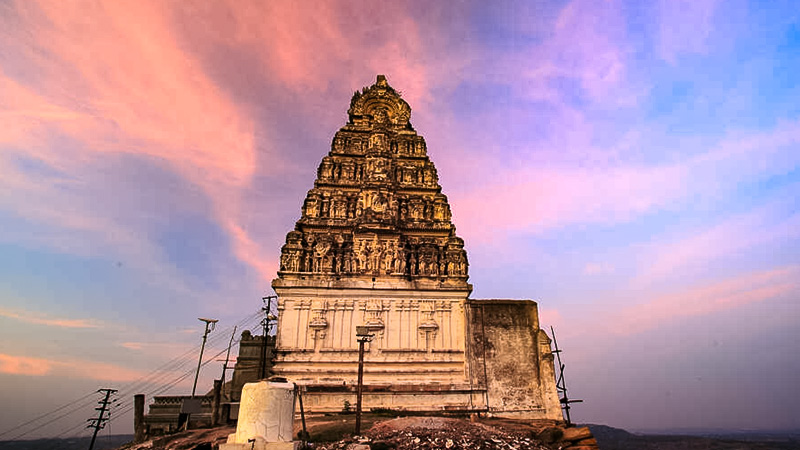 Melkote – Cheluvanarayana Swamy Temple
The Cheluvanarayan Swamy temple is the major pilgrimage center and one of the main attractions in Melkote. However, having visited the town you can also see and visit the places in and around Melkote temple. They are worth visiting.
Yoganarasimha Swamy Temple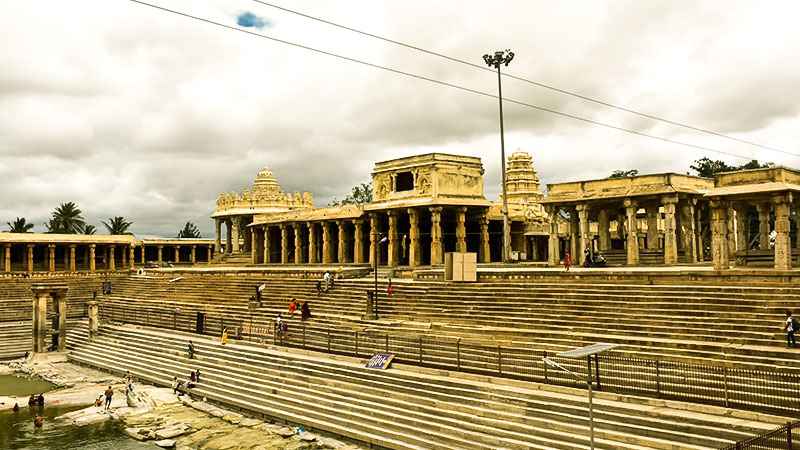 Melkote – Cheluvanarayana Swamy Temple
Another iconic attraction and highlight not to be missed are the Yoganarasimha Swamy Temple. The main attraction of the temple is the step-well and the pond called Kalyani. This beautiful architectural marvel dates back to the Hoysala dynasty. And is a favourite hot spot with pilgrims as well as history enthusiasts. A lot of stories and myths are attached to this temple and the devotees believe in them too. As per the belief and the stories, lord Rama, Krishna and Balrama have said to be worshipped here in different time zones. There is no way you can miss this pond and the temple.
Vairamudi Brahmotsava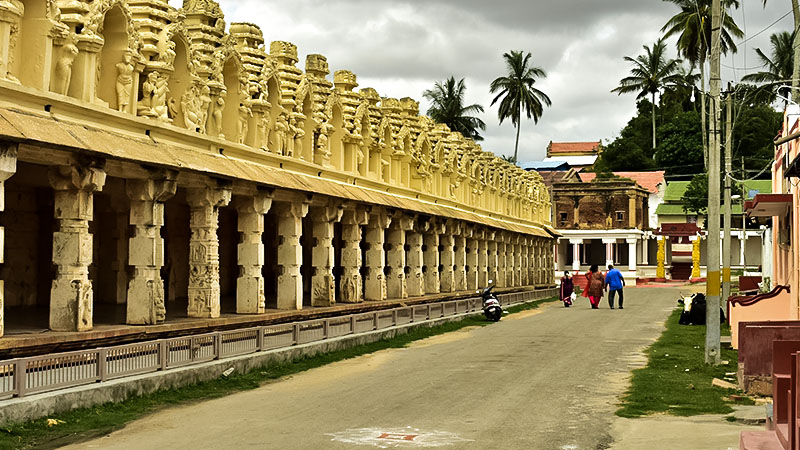 Melkote
A thirteen days festival held every year in March is one of the most celebrated festivals at Melkote. Vairamudi means diamond studded crown, which is the highlight of the festival. During the festival, the lord Cheluvanarayan is decorated with this diamond-studded crown and a procession is organized for all 13 days. The festival attracts up to 400000 devotees who flock from all over the country.  The festival is celebrated in splendour. This Vairamudi was adorned by the Wodeyars.
Melkote Wildlife Sanctuary
A unique and worth visiting, Melkote Wildlife Sanctuary was created in 1974 mainly to protect the wolves. Initially, it nestled only wolves and later other animals were added like a jungle cats, leopards, and many other common wild animals. The sanctuary is bird watcher's delight. The sanctuary is about 10 km and can be reached in 15-20 minutes.
Sanskrit Pathshala or Library
Keen on knowing about the Indian language Sanskrit? You must make a visit to the Academy of Sanskrit Research dating back to a few centuries of Ramanujan times. One of the oldest educational institutions and one of its kinds in the state, it was established in 1854. The library is home to Vedic, English, Kannada, and Sanskrit texts and literature. The library is on the same premises.
Temple Timings
Temple is open every day for visitors from 7.30 am till 8 pm with a lunch break of 2 hours in the afternoon from 1.30 pm to 3.30 pm. Temple timings change during the festival days to accommodate large numbers of pilgrims.
How to reach
Melkote temple is located in Mandya district en route from Bangalore to Mysore. The temple town is just 50 km from Mysore and about 113 km from Bangalore.
By Air
The nearest international and major domestic airport is Bangalore which is well connected with the major cities of the world. Mysore airport is comparatively a smaller airport and is connected to Bangalore, Chennai, Hyderabad, Hubli, and Goa.
By Rail
As mentioned, Melkote is closer to Mysore; one can reach Mysore via rail too. There is a good network of railway connections from major cities of India. Bangalore is also a major junction in South India with very good rail connectivity.
By Road
Melkote town has to be reached by road to the last mile. One can reach Melkote from Mandya headquarters by road in one hour. It is about 40 km from the district's main town.  State-run road transport buses, KSRTC, ply from various parts of Karnataka to Mandya.
Important Information:
There are around 500 steps to the temple. However, you can reach the parking base by vehicle (the best is the local auto-rickshaw) and climb the rest of the 160 -170 steps.
Vairamudi festival is celebrated only in March every year and is the best time to visit.
Visiting hours for Cheluvanarayana Swamy temple are 7.30 am to 1 pm, 4 to 6 pm, and 7 to 8 pm every day. The timings may vary during holidays and festival days.
You must try Puliyogere rice and sweet Pongal at a mess nearby.
Carry drinking water and sun protection during summers as the climb is steep.
 Image credits: Subhranil Kar