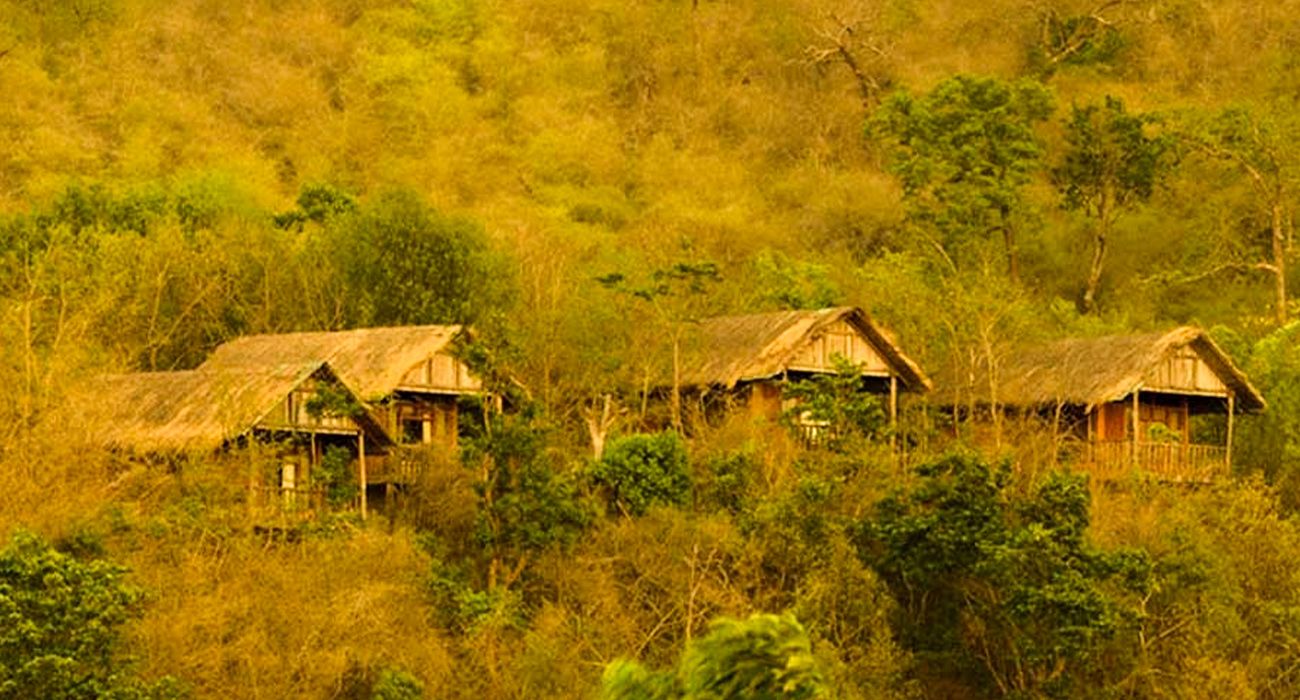 Recharge your brain with the tranquility of nature 
River Tern Lodge is a beautiful property located in Tarikere, Chikmagalur. Known for its tremendously gorgeous mountains and picturesque landscapes, this place is the perfect spot for wildlife enthusiasts. Surrounded by the magnificent Western Ghats, River Tern Lodge is an ideal place for relaxation, a few days away from the cacophony of the city. The stay offers a beautiful concoction of nature and wildlife, with several wild animals frequenting this amazing region.
How Did the Lodge Get Its Name?
River Tern Lodge has a curious name and I wondered why it does. However, little did I know that the location of the lodge would completely justify its name. The backwaters and islands in the vicinity attract numerous river terms during the mating season. The lodge is a brilliant place to spot these beautiful birds. River terms fly in and out of the place constantly during their breeding period.
A Paradise for Wildlife lovers
There is much more to this lodge than river terms. The Bhadra Tiger Reserve is located at a distance of about 4 km, a great place to encounter exquisite wild animals in their natural habitat. The experience is unique, thrilling, and quite enjoyable. A safari ride in a jeep may also lead to chance encounters with Tigers, Elephants, Gaur's, leopards, Crocodiles, Boars, and Deer. Rare birds like brown fish Owl, Malabar pied Hornbills, white-bellied Sea Eagle, Serpent Eagle, Osprey, and crested hawk Eagle may also be spotted in this region.
An Experience to Cherish Forever 
The camp also allows visitors to experience sports like kayaking, boating, and swimming. If you want to experience the jungle life at its best, a trip to River Tern Lodge is a must. The extraordinary jungle with its mysterious creatures and majestic mountains as the backdrop is an experience you will not want to miss out on. The rooms are very comfortable, the food is delicious and the services provided are extraordinary.
Overview Guide

Best Season To Visit
June To September is the best time to experience the Sanctuary as it is lush and green from the monsoon season.

Travel Tips
- Wear comfortable walking shoes
- Avoid smoking
- Do carry your hat, sunscreen, sunglasses and torch
- Avoid Plastics.
- Pets are not allowed

How To Reach

Bajpe International Airport in Mangalore is the nearest airport located 195 Kms away from the resort.

The nearest railway station is at Tarikere and Shimoga, which connects Bengaluru and other major cities.

One can drive from Bengaluru to River Tern Lodge which is around 283 Kms.

Resort Contact Information:
Behind Ranganathaswamy Temple, Bhadra Project, Lakkavalli, Around Chikmagalur,
Karnataka, India - 577115
Reservation: 08040554055
Email Id: info@junglelodges.com

Things To Do:
- Jeep Safari
- Boat Safari
- Kayaking