Indian Music Experience Museum (IME)
'Music has given me peace. I can remember an occasion when music instantly tranquilized my mind when I was greatly agitated over something. Music has helped me to overcome anger' – Mahatma Gandhi
Spread across 50000 sq feet, 3 floors, and 9 exhibit galleries, IME is India's first interactive music museum. India is a vast country and its diversity in the form of art and culture depicts the love and respect for it. Music in India is as old as anyone can remember it. With a deep R & D of nearly 10 years, IME was constructed with a vision to introduce the youth to the diversity of Indian Music and to preserve India's rich musical heritage. Indian Music Experience Museum is an experience of its kind.
The 9 exhibit galleries illustrate various styles of music ranging from traditional to folk, pop, Bollywood, and contemporary. Very artistically and tastefully designed galleries allow you to explore stories about various songs and music in each genre through computerized audio-visual touch screens. Varieties of musical instruments and artefacts on display make the whole ambiance very calming.
Galleries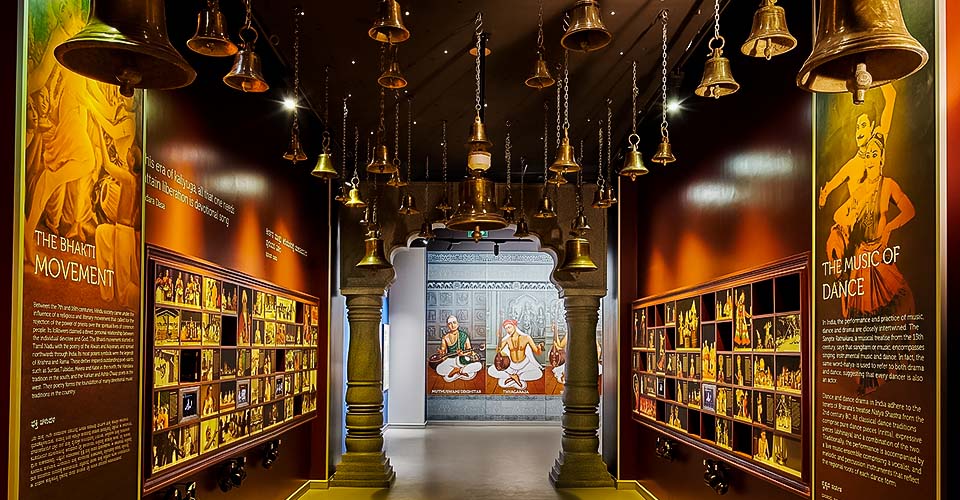 You need not be a musicophile or a melomaniac to visit IME, it has something for everyone. The nine rasa or the nine galleries showcases various forms of music and dance.
As you enter 'The Star' gallery you will see the highlights like the Shehnai of Bismillah Khan, the Tambura of MS Subbulakshmi, and the concert attire of Pt. Bhimsen Joshi. The gallery features a hundred luminaries of the Indian music.
Highlights of the next gallery 'Reaching out' are the rare phonograph and wax cylinder display, a photo opportunity with a gramophone set, and a recording studio. Trance the journey of sound and music recording has evolved from the gramophone to the mobile phone era.
Hindi Film music has been part and parcel of our daily lives to celebrations. The 'Stories through song' section gives you a glimpse of different eras of Hindi film music with some of the iconic background scores. Posters of Iconic Hindi movies give you the photo opportunity and are the highlight of this section.
Do you also get goosebumps listening to freedom struggle motivational songs and the Vande Mataram? 'Songs of Struggle' gallery highlights over 35 versions of Vande Mataram, a replica of a letter to M S Subbalakshmi from Mahatma Gandhi, and many patriotic songs over the period.
An amazing sight of Peacock-shaped Mayura Veena and Snake Shaped Nagphani displayed at 'Instruments Gallery' will surely amaze you. A splendid double-height exhibit of over 100 musical instruments along with information on their origins, making and playing techniques will surely strike a chord.
Will the story of Nottuswara, leg harmonium display, or a brass band photo-op enough to attract the gallery called 'Melting Pot'? Explore the lesser-known and some of the most interesting stories about the history of musical instruments such as the violin and the harmonium at this gallery.
We all have something in us which takes us back to our roots. Yes! That is the essence of folk music and dance which starts from birth and goes till death. Rightly named the gallery 'Songs of the People' highlights the mechanized puppets, folk art murals, kaavad box, and the songs and music from various folk artists.
Immortal basic concepts of Hindustani classical and Carnatic music are displayed in the 'Living Traditions' gallery. It exhibits what Sruti, Raga, Tala, Gharana, Dhrupad, Khayal, and Kutcheri means.
You cannot take away 'Contemporary expressions' when it comes to Indi-Pop music. Discover the ocean of influencers and icons that moved the world with Indian Pop and Rock music. Hybrid Sounds interactive, Daler Mehndi's performance costume, a fancy auto rickshaw, and an interactive touch-screen mini-theatre will surely move you too.
Sound Garden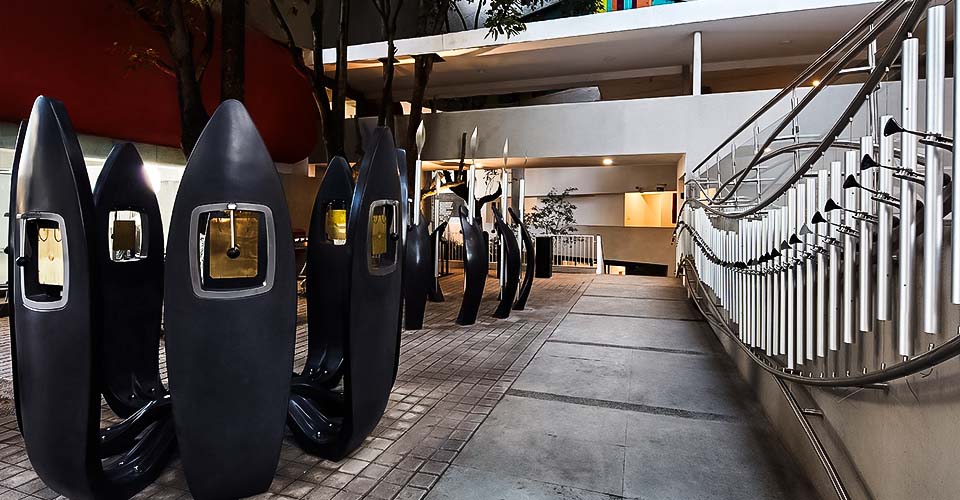 Aesthetically designed Sound Garden is where you would love to spend a lot of time. Musical installations here invite you to discover its diverse sound, and vibrations. How the music can be created even with the stones and metals can be learned, heard, and felt here. The vibrations of the stones making humming sounds and singing sound not only amazes you but also soothes the soul. Open-air music under the green roof in perfect Bangalore weather is something everyone craves for. Indian Music Experience is the place for that.
Music Learning
With the vision of making IME a centre of excellence in music education, IME has started conducting music and dance classes with strong and renowned experts. If you are interested in Hindustani vocals, Carnatic vocals, Mridangam, Tabla, Violin, Veena, light music, Bharatnatyam, guitar, Keyboards, and Drums, IME is the home for you. Classes are conducted for kids and adults as well.
Timings:
Except Mondays, the museum is open on all days.
Weekdays: 10 am – 6 pm
Weekends- 11 am – 7 pm
The last ticket is sold at 5 pm.
How to reach
Indian Music Experience is located in a busy area of Bangalore city. Nestled in the beautiful atmosphere of Brigade Millennium Avenue, IME is located in J P Nagar of South Bangalore.
Ticket Cost:
The costs for weekdays and weekends are different. Tickets can also be booked online.
Weekday /Weekends
1. Adults: Rs. 150/250
2. Children up to 12 years and Senior Citizens: Rs. 100/150
3. Children below 5 years: Free/Free
4. Group of 10 or more: Rs 125/200
5. School Groups up to 12th Grade by Prior appointment: Rs 100/100